---
Rehearsals of the Fifteenth Symphony began at the end of December 1971 and continued until 4 January 1972 every day until the premiere. On 8 January 1972, the premiere of the Fifteenth Symphony was held in the Grand Hall of the Moscow Conservatory as performed by the Grand Symphonic Orchestra of All-Union Radio and Television conducted by Maxim Dmitriyevich Shostakovich.
On 1 June 1972, the Fifteenth Symphony was performed for the first time in West Berlin by the USSR State Symphony Orchestra conducted by Evgeni Svetlanov.
From 30 June to 21 July 1972, Shostakovich made a trip to England and Ireland, also visiting Finland and Denmark on the 'Baltika' steamship.
Several photographs from the 1970s with son Maxim.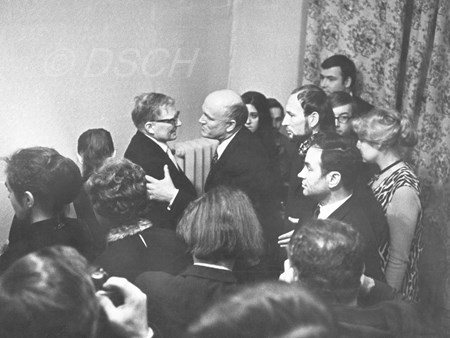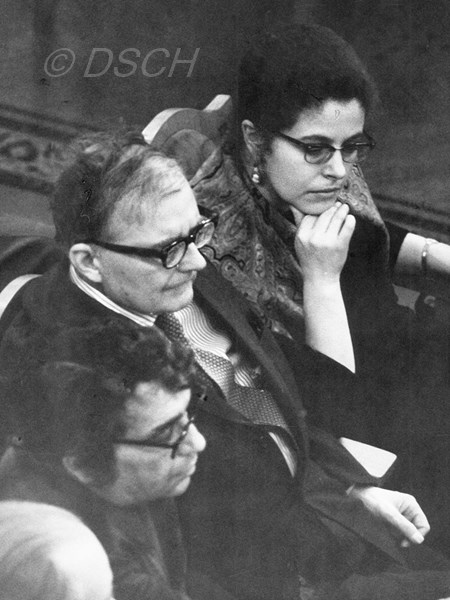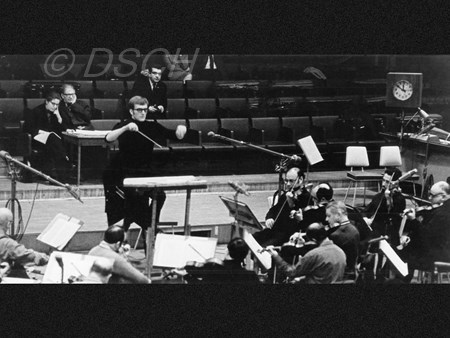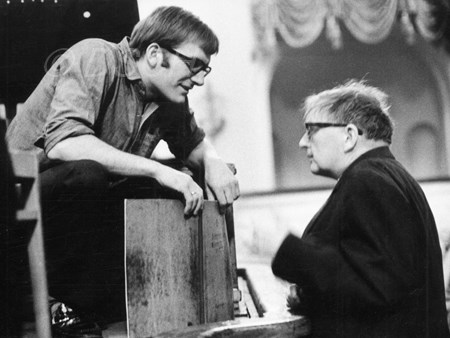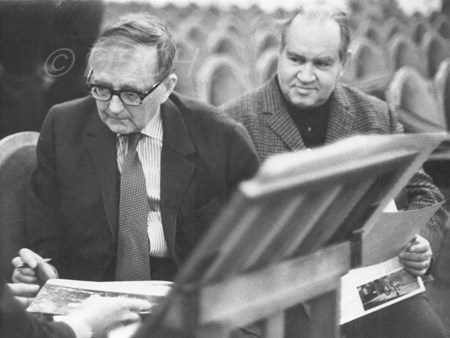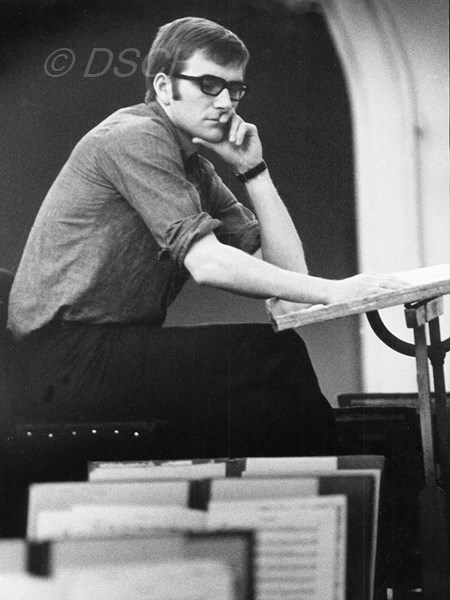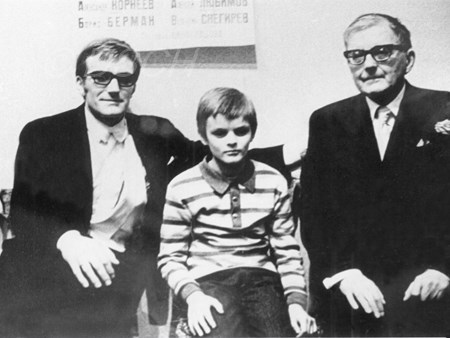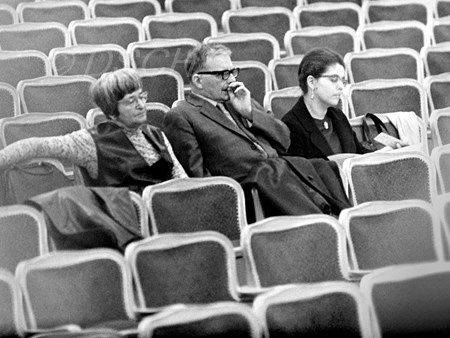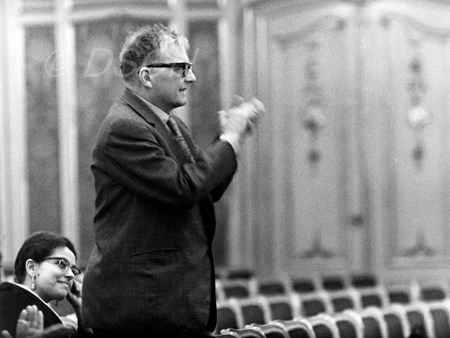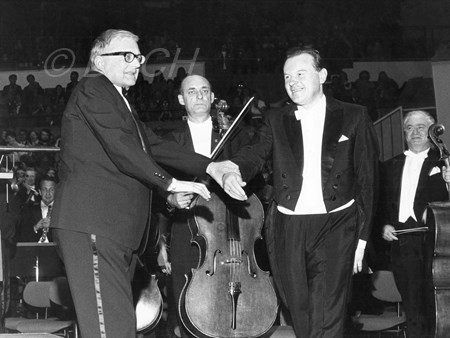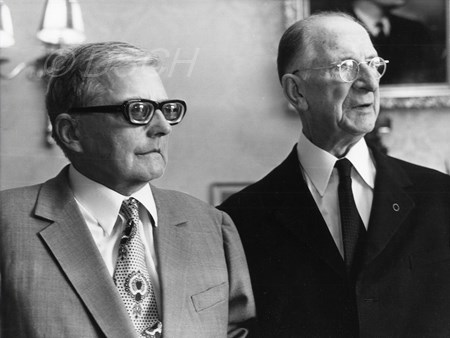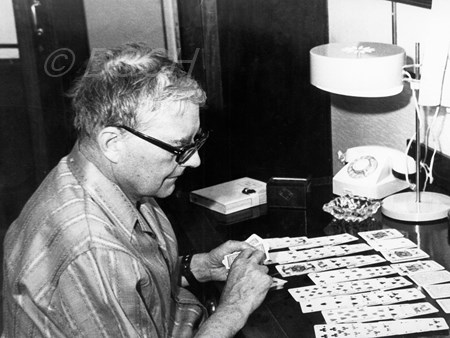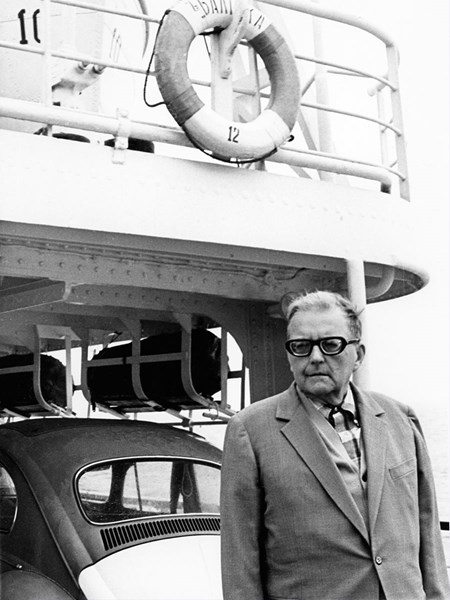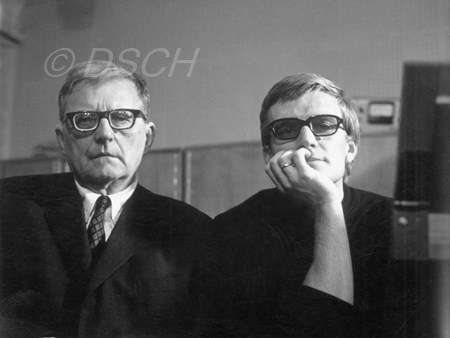 January 8th - Premiere of Symphony No. 15 (ор.141).
June 13th and 14th - Shostakovich attends the premiere of Symphony No. 15 in Berlin.
Shostakovich is presented with an Honorary Doctorate in Music at Trinity College Dublin.
November - Shostakovich attends the premiere of his Symphony No.15 in London.
September 22, 1972, Zhukovka
"I have not written a single note for a whole year.
It is difficult to find an explanation for this. It may be the struggle with my health. I have not been smoking or drinking for a year now.
In Chekhov's 'Black Monk' the hero Kovrin used to say that concern for his wealth robbed him of the joy of creation, that, if Mohammed or Shakespeare had drunk only milk and eaten only rice-pudding, there would be no trace of them left.
'The Black Monk' made a great impression on me, or, I should say ,makes a great impression on me every time I re-read it. I would earnestly beg you to read it without fail, if you haven't read it recently or at all."
October 19, ,1972, Borvikha
"I'm going to London...I have very little strength. Yet this is not taken into
account and I'm being forced to go..."
<...>
What worries me is that since composing the Fifteenth Symphony I haven't
written a single note. Am I now to be deprived of this modest pleasure? I
have never had such a long gap before..."
February 4, 1972
(Secret)
"The Leoni Sonning Music Foundation (Denmark) has approached the
composer Shostakovich with a request for permission to present him with a Prize.
This prize worth 60,000 Danish kroner is awarded every year to an outstanding composer or performer. In the past this prize was awarded to Igor Stravinsky
(USA), Witold Lutoslawski (PPR), Benjamin Britten (England), the conductor and composer Leonard Bernstein, the singer Birgit Nilsson and other leading
musicians.
According to the charter of the Foundation the Prize is presented to the composer in person in Copenhagen during a concert of his works. The
presentation of the prize is scheduled for May 1973.
The Soviet Embassy in Denmark has expressed the opinion that D. Shostakovich should not give his consent to receive the prize because the Foundation for this
prize was created on the basis of commercial operations connected with property dealings of the late Sonnings, or he should accept it and donate the money to the 'Peace Fund'.
Comrade Shostakovich is inclined to agree to receive the prize and donate it to the 'Peace Fund', referring to the fact that in the past it has been
awarded to outstanding contemporary composers.
The Ministry of Culture of the USSR considers it possible to approve D. Shostakovich's suggestion. Please review this matter."
April 24, 1972
(Secret)
"The Ministry of Culture of the USSR (Comrade Furtseva) has reported the intention of the L. Sonning Music Foundation (Denmark) to present a prize
to the composer D.Shostakovich, which is awarded each year to outstanding musical figures from various countries. The Ministry has agreed with
D. Shostakovich that he should accept the prize and subsequently donate it to the 'Peace Fund'.
The Soviet Ambassador in Denmark has informed us in a telegram dated April 14th of this year (special - 175) that Comrade Espersen, Chairman of
the Communist Party of Denmark voiced the opinion that it would be expedient for D. Shostakovich to accept the prize from the Sonning Foundation,
provided that he is prepared to donate it to the 'Peace Fund'.
The relevant departments of the Central Committee of the CPSU deem it possible to accept the suggestion from the Ministry of Culture of the USSR.
Agreement requested."
(Secret)
"In accordance with the agreement received from the Central Committee of the CPSU dated April 28, 1972 the Ministry of Culture of the
USSR deems it possible to permit D. Shostakovich after his visit to Denmark to travel with his wife to the USA in order to receive an
honorary doctorate and to England, on the invitation of B. Britten, as a guest of the Aldeburgh Festival.
Agreement requested."
---