---
In September 1966, after a long illness with hospital and sanatorium treatment, Shostakovich was in Repino, where his friends and students visited him.
On 25 September 1966, on Shostakovich's sixtieth birthday, an anniversary concert was held in the Grand Hall of the Moscow Conservatory, in which the Second Concerto for Violoncello and Orchestra was performed for the first time by Mstislav Rostropovich and the USSR State Symphony Orchestra conducted by Yevgeni Svetlanov. On 5 October 1966, Shostakovich was awarded with an Order of Lenin and gold Hammer and Sickle medal.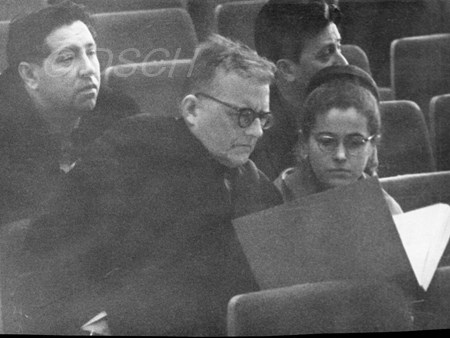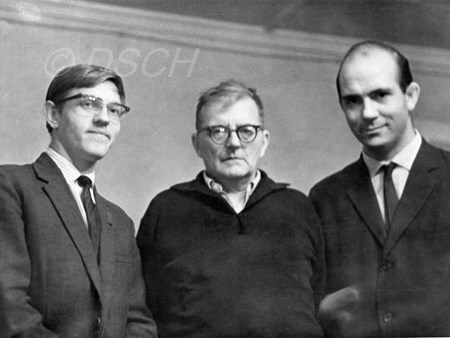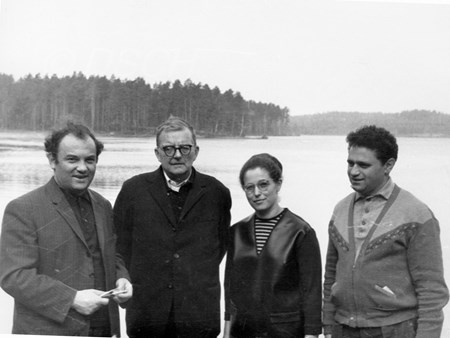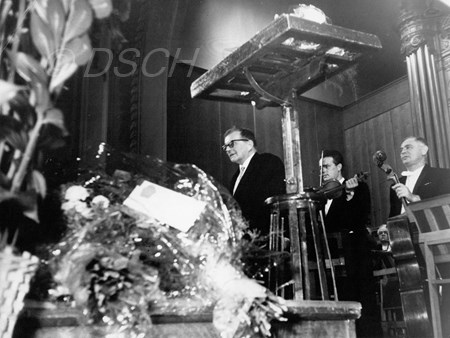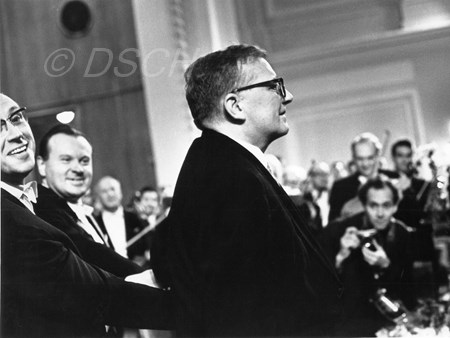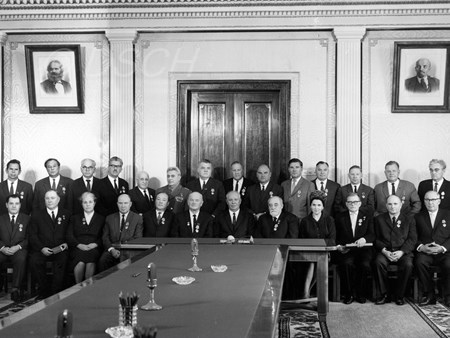 April 24th - First Performance of the vocal-symphonic cycle "Six Romances on words by Japanese Poets" (ор.21).
May 28th - Concert of Shostakovich's music: premiere of String Quartet No.11 (ор.122).
"Preface to the Complete Collection of my Works" (ор.123).
September 25th - Premiere of Cello Concerto No. 2 (ор.126).
Re-elected as deputy to the Supreme Soviet of the USSR.
Awarded the title Hero of Socialist Labour.
March 20, 1966
"I have composed 'Preface to the Complete Collection of my Works and Brief Reflections apropos this Preface'. The words and music are mine.
'At one fell swoop I smear the page.
With well-trained ear I hear the whistling.
I plague the ears of all the world -
Leap into print and then oblivion'
A preface of this kind could have been written not only for my Collected Works, but also for those of many, very many other composers - both Soviet and foreign ones. Here is the signature as well: Dmitrii Shostakovich. People's Artist of the USSR. Umpteen other honorary titles. First Secretary of the Union of Composers of the USSR, simply Secretary of the Union of Composers of the USSR and also countless other highly responsible duties and offices."
"I do not have a strict time-table for my day. In the past I could work on several compositions at once. No longer - now I can only work on one at a time. <...>
I am well aware of how listeners respond to my music. Not after a performance, but during it I can sense this and feel it. What evidently makes this easy for me is that I myself am a performer and until 1958 was still performing. If it were not for my arm I would still be performing now.
It is always difficult to talk about oneself and one's own creativity.
If work is going well, then I write almost all the time: in the morning, during the day and in the evening. Perhaps this is an incorrect creative method and, besides, I write very fast as well, which I regard as another of my shortcomings. Because of this flawed passages occur in my work, which I sometimes correct later."
August 28, 1966, Melnichii Ruchei
"I am now living in Melnichii Ruchei, which is the out-of-town branch of the hospital where I was convalescing after a heart-attack, which happened to me in Leningrad at the end of May.<...>
All my relatives, alarmed by my bad health, are now in Leningrad."
November 10, 1966, Zhukovka
"While I was in hospital I was examined by a professor of surgery and a professor of neurology. They were both very pleased with my arms and legs. After all, the fact that I can't play the piano and have colossal difficulties walking upstairs isn't so important. One doesn't have to play the piano and one shouldn't use stairs, one should sit at home. What's the point of loafing about on stairs or along slippery pavements. It's true: yesterday I went for a walk, fell and knocked my knee rather badly. If I'd stayed at home, none of that would have happened. Everything else is very fine too. As before I am not drinking or smoking. There were temptations but my stupid fears proved stronger than the temptations. I don't want to smoke at all and I'm not tempted by tobacco. But I have a real yen for a drink sometimes, but (see above, on fear).
Other physical tasks also seem to be out of my reach. I think that because of my weakness I shall not be able to come to Leningrad for the premiere of my Cello Concerto. There are staircases everywhere - including the Great Hall of the Conservatoire. That is all very sad for me, of course. It does not look as if I shall be coming to Leningrad soon and perhaps I shall never be able to go there again."
December 2, 1966, Zhukovka
"Everything is more or less all right with me. I am trying to live at the dacha which is a fine place to be. Recently I have been acquiring a characteristic that I share with Mravinsky: I'm starting to love Nature.
The bad thing is that I'm not composing anything. Because of that my brain is rusting over. In order to keep up my strength and energy I am doing exercises and walk for three hours every day: an hour in the morning, an hour in the day-time and an hour in the evening."
October 20, 1966
"Most respected Pyotr Nilovich!
I am turning to you with a serious request: I am planning to resign from my duties as First Secretary of the Union of Composers of the RSFSR. The state of my health no longer permits me to devote the necessary time and energy to these duties."
July 27, 1967
(Secret)
"The Secretariat of the Union of Composers of the RSFSR has considered the request from D. Shostakovich for him to be released from his duties as First Secretary of the Union and has decided to ask Shostakovich to remain at the head of this organization till the next Congress, which is due to be held in the first half of 1968. The Secretariat of the Union of Composers of the RSFSR has assured Comrade Shostakovich that he will be provided with the best possible conditions for the restoration of his health and for his creative work.
At the present time Comrade Shostakovich is not pursuing his request further."
---