---
On 24 March 1965, the premiere of the opera Katerina Izmailova was held at the Kiev Theatre of Opera and Ballet. Shostakovich said of this staging (conductor Konstantin Simeonov, director Irina Molostova): 'I have had occasion to hear the opera in different theatres, but your performance was the only one that really inspired me. I think the Kiev staging is one of the best.'
This was why when director Mikhail Shapiro began working on the opera-film Katerina Izmailova at the Lenfilm Studio with Galina Vishnevskaya in the main role, the performers of the Kiev staging headed by Simeonov were chosen for recording the phonogram of the film.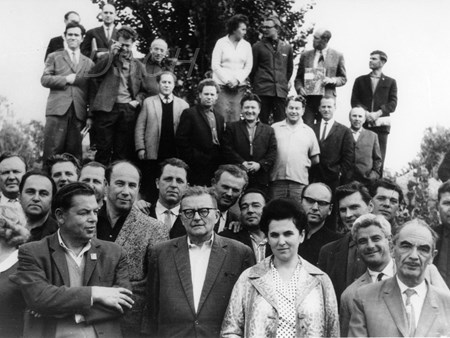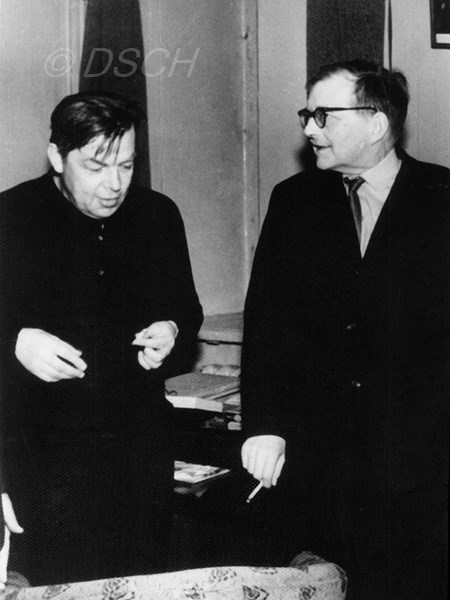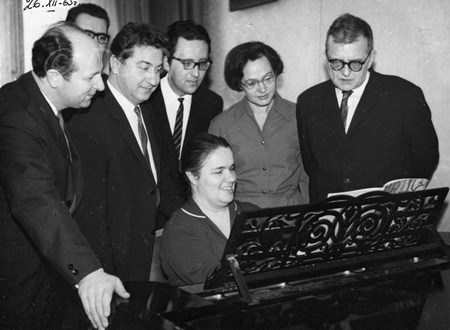 February-April: Shostakovich attends premieres of his opera "Katerina Ismailova" (op. 29/114) in various cities of the Soviet Union and also in Vienna and Budapest.
Visit to Armenia, Byelorussia, Novosibirsk and Yoshkar-Ola.
Election as an Honorary Member of the Serbian Academy of Arts.
"Five Romances on texts from 'Krokodil' Magazine" (ор.121).
April 23, 1965, Zhukovka
"It seems that I'm, finished as a composer. For the life of me I can't write the music to the film 'Karl Marx.'"
January 27, 1965
"Today Maxim played me the recording with your performance of 'The Execution of Stepan Razin'. The performance is superb. It made a huge impression on me. Gromadskii was very good. The choir is superb. You played a little bit on the slow side...the episode 'Bells ring out over Moscow'.
I shall listen to it again, though. Perhaps, that's how it should be. Despite the shortcomings of the recording I am simply beside myself with excitement and overwhelmed."
October 26, 1965
"Goodness, Love and Conscience - these are the most precious things in a person. When these are missing in music, literature or painting, then no original sound-effects, refined rhythms or striking palette can save the day.
'Genius and evil are incompatible.'
'Thou shalt not kill.'
'Thou shalt not covet thy neighbour's wife, nor his ox, nor his ass...'
'Being determines consciousness.'
I am proud of the human race, whose great sons have brought forth such great thoughts."
October 26, 1965
"I feel hurt on behalf of my favourite poet, or one of my best loved poets - Yevtushenko. Let's leave out such things as beauty of language, grace of rhythms and so on - I'm not an expert in all of that.
You don't like the fact that he's been standing over you and trying to teach you what you already know: 'Don't steal honey', 'Don't lie' etc.
I also know that one shouldn't do this and I try not to. Yet I am not bored to be hearing it once more. Perhaps Christ made the point better and probably better than anyone else even. Yet that does not rob Pushkin, Tolstoy, Dostoyevsky, Chekhov, J.S.Bach, Mahler, Mussorgsky and many others of the right to do the same. Moreover, I feel that they are obliged to speak out about this, just as Yevtushenko is. To remind people of this is our sacred duty."
---