---
Several photographs taken during meetings with Benjamin Britten, whom Shostakovich called one of his favourite composers and to whom he dedicated the Fourteenth Symphony.
At the beginning of the 1960s, after Shostakovich was elected first secretary of the board of directors of the RSFSR Union of Composers, he became widely involved in public activity. The frequency and intensity of his creative trips grew.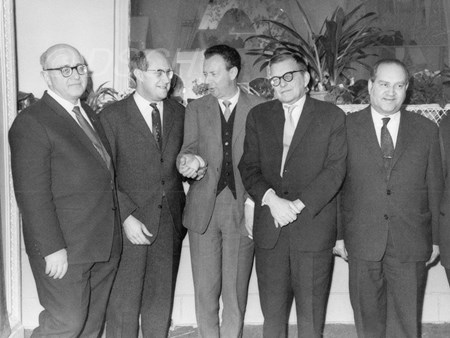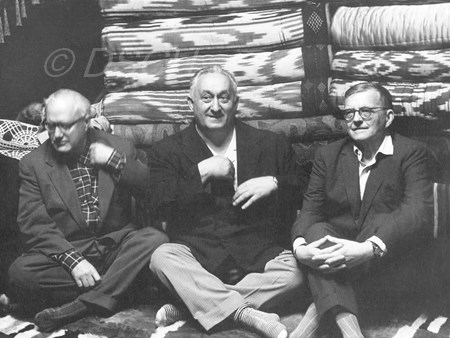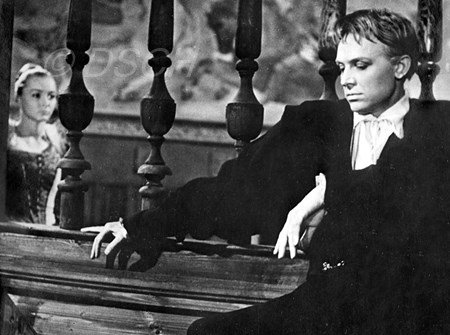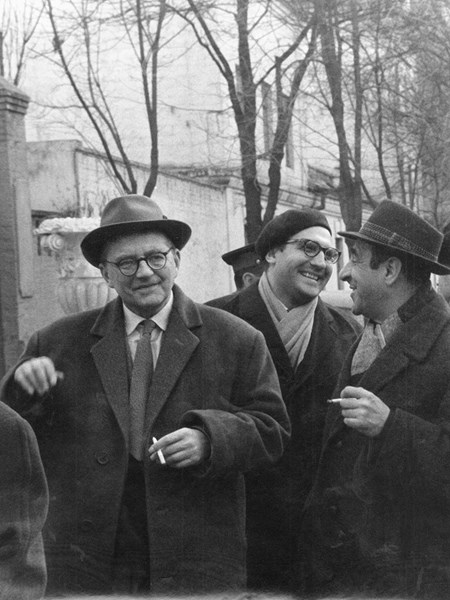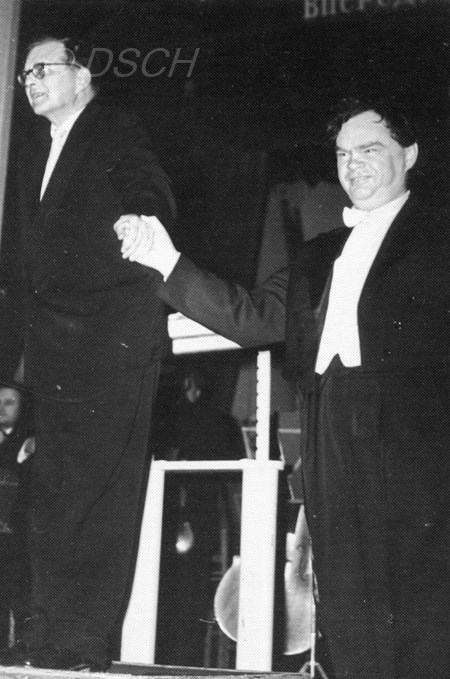 January 8th - Premiere of the opera "Katerina Ismailova" in a new version on the stage of the Stanislavsky and Nemirovich-Danchenko Theatre (op. 29/114).
December 2nd - Premiere in London.
"This year I have travelled a good deal round my country, I took part in ten-day festivals of Soviet music in Moldavia and Kirghizia. The ten days of our visit to the marvellous republics passed rapidly. During that time I made about 30 appearances. Some of the events took place even on highways along which our group made its way, in mountain pastures, in cotton-fields and everywhere we came across highly cultured people. We saw for ourselves that Communism is not merely a dream but also tangible reality."
January 10, 1963, Moscow
"The symphony is not going to be performed in the near future. I doubt if I shall be able to change anything in it."
August 5, 1963, Zhukovka
"...I returned to Moscow from Armenia, where I spent a month in Dilizhan.<...> Now I am living at the dacha. I rarely come into town. I am working at my music trade. I have orchestrated Schumann's cello concerto. I am orchestrating two very good pieces by the late A. Davidenko - 'At the Tenth Verst' and 'Turmoil in the Street'.
Regarding composition nothing is happening."
E. Andreyeva
(performer of the part of Katerina Ismailova):
"Once after rehearsals - and Shostakovich was present at all rehearsals - we went into a classroom and he himself started accompanying me...It was the aria 'There is a lake in the forests'...When he started to play, there was such power in his chords, such energy and he played it all so powerfully that, although he didn't say anything and gave no advice, this energy seemed to be passed on through his music...I shall never forget this...
The recording of the opera 'Katerina Ismailova' was awarded a Grand Prix in Paris.
Dmitrii Shostakovich was so happy, when he came out on stage after the premiere. The ovations were incredible, I've never heard the like..."
August 23, 1963, Moscow.
"...I have a suggestion to make to you. I want to demonstrate to you and to the other post-graduates Benjamin Britten's 'Requiem'. I have a record of this work. I should very much like to acquaint you all with this, as I see it, almost great work. I also have the score of the requiem. You will be able to listen and see the score. <...>
It is essential that you and your friends listen to the 'Requiem'. It is essential that you should acquaint yourselves with this work of a marvellous composer. That's all I wanted to convey to you."
October 2, 1963
"If it will be possible to put into practice the idea of ​​demonstrating the works of my students in Gorky, I ask you to write each of them a letter of approximately the following content:
Dear ...!
Then such a festival will take place in Gorky. We plan to show the works of D. D. Shostakovich's students in this festival. Please tell us what your composition would you like to demonstrate at the festival.
Director of the Gorky Philharmonic G. Nikitin.
Chief Conductor I. Guzman.
Of course, you will receive an abundance of names in response. Send these names to me. And I'll take away what would make sense to show at the festival.
I kindly ask you to send such letters to the following students:
Boldyrev Igor Georgievich
Bunin Revol Samuilovich
Hajibeyov Sultan Ismail oglu
Hajiyev Ahmet Jevdet Ismail oglu
Galynin German Germanovich
Good Joseph Pavlovich
Yevlakhov Orest Alexandrovich
Karaev Kara Abulfaz oglu
Katsnelson Moses Aronovich
Klyuzner Boris Lazarevich
Kuss Margarita Ivanovna
Leviev Minasay Betyanovich
Levitin Yuri Abramovich
Leman Albert Semenovich
Lobkovsky Abram Mikhailovich
Lviv-Kompaneyets David Lvovich
Makarov Evgeny Petrovich
Maklakov Vladimir Alekseevich
Matveev Mikhail Alexandrovich
Nazirova Elmira Rza kyzy
Okunev German Grigorievich
Rostropovich Mstislav Leopoldovich
Saryan Lazar Martirosovich
Sviridov George Vasilievich
Smirnov Kuzma Alekseevich
Tigranyan Vartan Armenovich
Ustvolskaya Galina Ivanovna
Khachaturian Karen Surenovich
Tchaikovsky Boris Alexandrovich
Chugaev Alexander Georgievich
Belov Gennady Grigorievich
Mnatsakanyan Alexander Derinovichovich
Assumption Vladislav Alexandrovich
Tishchenko Boris Ivanovich.
As you can see, the list is solid.
Naturally, not all of this list will be able to participate in the concert. But if it were possible to organize two concerts, then it would be very good."
To the Secretary of the Central Committee of the CPSU,
Comrade Ilyichev:
"In January and February 1963 four concert performances of Shostakovich's Thirteenth Symphony took place. Not all parts of this symphony are of equal merit. Too much gloom, and an over-pessimistic tone permeate the text and music of the third part "In the Shop", for instance. In the first part - Babiy Yar - the music as a whole comes over like a grieving requiem for the victims of fascism. At the same time certain parts of the text, because of their one-sided focus, clash with the general lofty timbre of the music.
At the present time concert organizers in our country and also musical institutions and conductors from foreign countries - Czechoslovakia, Bulgaria, the GDR, the USA, the FRG, Japan, England and others - are approaching the Union of Composers of the USSR with persistent requests to supply them with the score for a performance of the Thirteenth Symphony <...>
Awaiting your instructions in this matter.
T. Khrennikov, First Secretary of the Union of Composers of the USSR."
May 15, 1963
"The Union of Composers of the USSR (Comrade Khrennikov) has submitted a letter about the Thirteenth Symphony of D. Shostakovich, in which the question is raised concerning the wide-scale performance of this work in the Soviet Union and abroad. <...>
...wide-scale performance of this symphony at concert venues in this country was not considered expedient. It would be appropriate to instruct the Ministry of Culture of the USSR (Comrade Furtseva) to restrict performances of the Thirteenth Symphony by D. Shostakovich in future and to establish a procedure for its availability.
Comrade Khrennikov informs us further that many concert organizers abroad have also been approaching the Union of Composers of the USSR with requests for it to supply them with the score for performance of the Thirteenth Symphony.
It is also seen as essential to instruct the journal "Sovietskaya Muzyka" (Comrade Grosheva) to come forward with a principled evaluation of the Thirteenth Symphony by Comrade Shostakovich.
Your approval awaited."
---