---
In January 1958, Shostakovich performed in his authorial concerts as soloist in several Bulgarian cities and participated in the performance of Quintet and Trio No. 2 with the Beethoven Quartet. On 25 June 1958, Shostakovich was awarded an honourable doctor's degree from Oxford University. On 8 October 1958, Shostakovich went to Finland to receive the Jean Sibelius International Prize.
On 18 March 1958, the First International Tchaikovsky Competition opened in Moscow in the Grand Hall of the Conservatory. Dmitri Shostakovich opened the ompetition and was the permanent chairman of the competition's Organization Committee until the end of his life.
At the end of May 1958, Shostakovich was in Paris, where the Eleventh Symphony was performed at concerts of the National Orchestra of Radio France conducted by André Cluytens, and two piano concertos were performed by the author.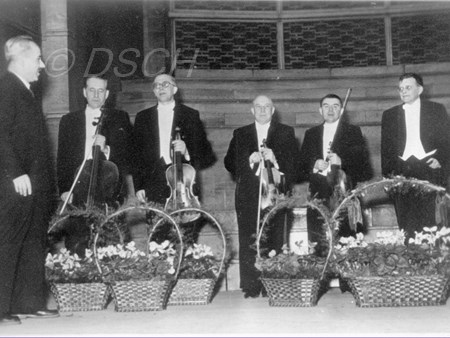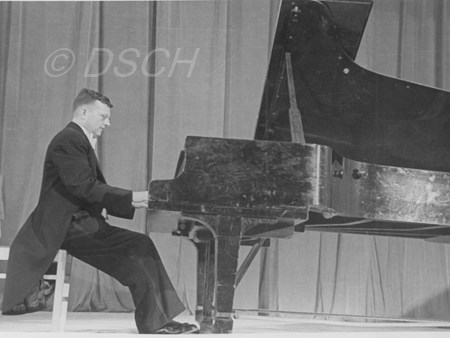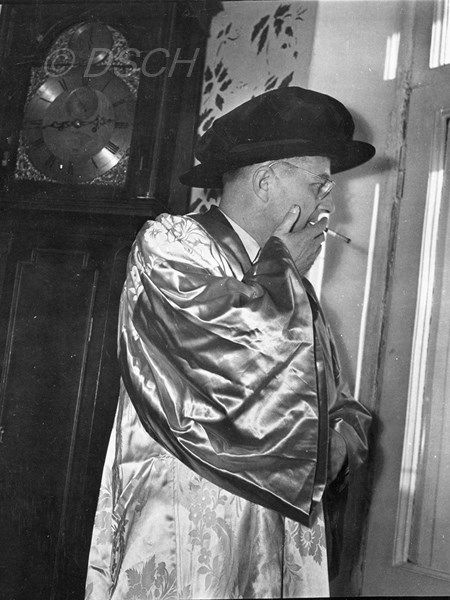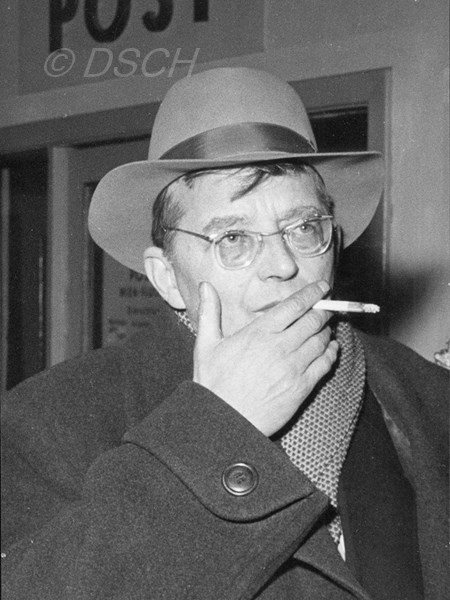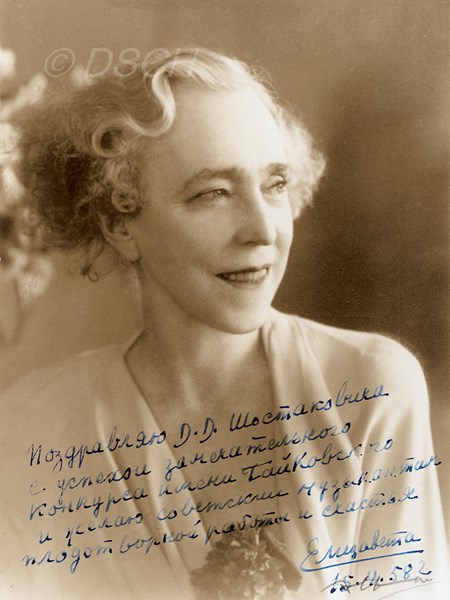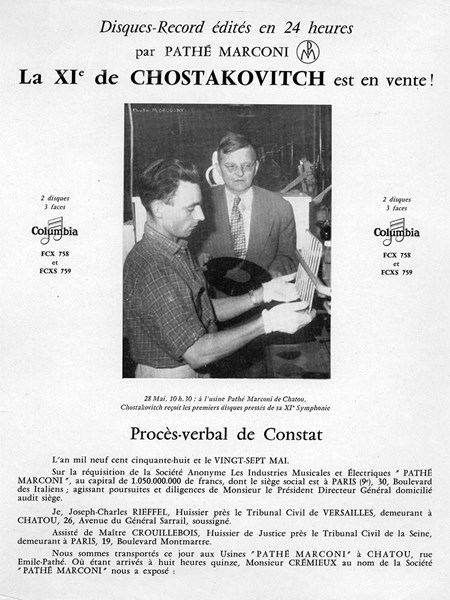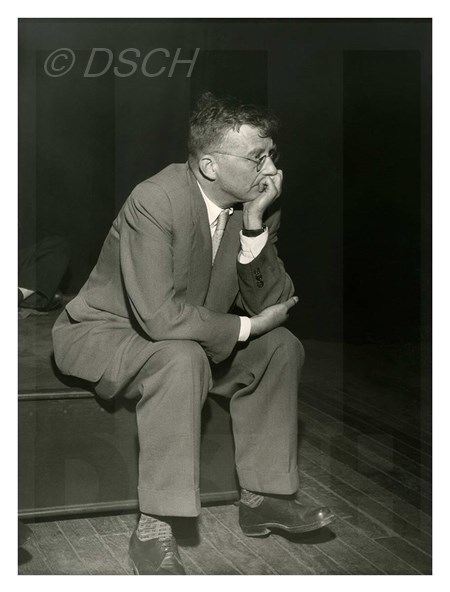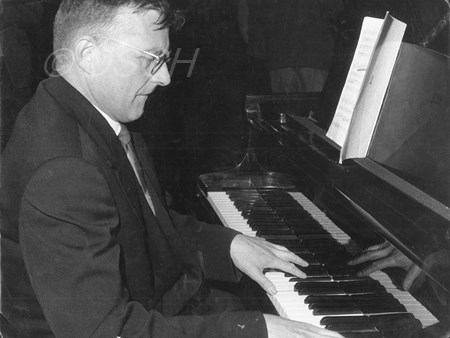 Chairman of the Organizing Committee of the International Tchaikovsky Piano Competition.
Shostakovich proclaimed Commander of the Order for Art and Literature. Concert of Shostakovich's music in the Palais de Chaillot.
Honorary Doctorate of Music from Oxford University and membership of the Royal Academy of Music in London conferred on Shostakovich.
Award of the Sibelius Prize.
"Lady Macbeth" performed in La Scala (ор.29/114).
May 5, 1958, Gorky
"I feel terribly tired. I should sit at home and play patience..."
September 6, 1958, Moscow
"When I write my arm gets very tired. I can play only slowly and pianissimo. I noticed this when I was in Paris..."
September 19, 1958, Moscow
"My stay in hospital is coming to an end. I have been thinking about my works 'Lady Macbeth' and the Fourth Symphony. I am not very confident that these works will be performed, but I indulge myself in my imagination..."
August 6, 1958
"Have you thought how you are going to amuse yourself and recuperate after your studies? <...>
Love is the most important thing in life. In addition love is a very serious and responsible matter. There always needs to be a harmonious balance between feeling and common sense.
I want very much for your life to turn out well, for you always to be healthy and happy.
Love and kisses, Papa.
Give Maxim a kiss from me too and give my regards to the children. Don't drive the car, because you might get caught by a policeman and there would be no end of trouble. None of you should drink vodka in any circumstances. This is something I categorically forbid you. Let me know how you are and write to me about how life is going. Papa."
September 6, 1958, Moscow
"I shall be staying in hospital at least until the end of October. That is what was decided the day before yesterday by a council of professors - high-priests of science. My right arm is very weak. It often tingles. I can't lift anything heavy. With my fingers I can take hold of any suitcase, but I have difficulties putting my coat on to a hook. It's difficult to brush my teeth. When I write, my arm gets very tired. I can play only slowly and pianissimo. I noticed this when I was in Paris. I could hardly play at concerts there. I didn't pay attention to it then. The high-priests of science, when I asked what this complaint was called, could not give me a clear answer, but they have sentenced me to a stay in hospital till the beginning of October. Just in case I am exercising my left hand. Every day I practise writing out all the letters in the alphabet, numbers and all kinds of phrases like: 'Masha eats kasha' and 'The cat sat on the mat'. My God, how difficult this is! No progress, no advance. My left hand is very backward."
September 25, 1958
"I feel better. My hand is writing. Soon I'll be out of hospital."
December 19, 1958, Moscow
"I am regularly attending rehearsals of my operetta. I'm burning with shame. If you are thinking of coming to the premiere, I advise you to think again. It isn't worth wasting time on admiring my disgrace. It is boring, mediocre and silly. This is all I can tell you in strict secrecy."
Zinaida Gayamova,
the composer's secretary:
"After getting back from Komarovo (I think it was on August 8th) Shostakovich immediately started treatment, complaining that his right arm was painful..."
"In Leningrad I was met by Galina and her son. <...> She told me the following: Shostakovich is very unhappy with his wife Margarita. He had complained to Galina that he is living next to a person, who is a complete stranger to him, that he never loved her and doesn't love her now and that there had even been a moment, when he had bought a ticket to Leningrad and written her a letter, saying that he could not live with her any more, and that he had even gone so far as to post it. An unexpected telephone call from the Central Committee obliged him to remain in Moscow so he was able to get hold of this letter and did not give it her, because he wanted to avoid any scenes. He had been so worked up about it, that he had even fallen ill, his temperature had sunk below 36 degrees. In a word, he is doing everything necessary to separate from her and the only thing that worries him is that she might seek revenge and create trouble."
"I was told that there were plans to make Shostakovich a Hero of Socialist Labour. He sarcastically responded to this saying he doubted it, because his current behaviour would rule that out. Then he said he was going to resign from all his official duties, including his post in the Bolshoi Theatre, on the journal and from the Union. <...>
What made a particularly grim impression on me was the state he was in after his return from Italy and France. He was in a tense and depressed state. Margarita as well, inspite of bringing back for herself everything she wanted.
Soon afterwards Shostakovich went to England to receive the gown and degree of a Doctor of Oxford University. This trip he really enjoyed..."
---