---
On 10 May, on Maxim Shostakovich's nineteenth birthday, the premiere of the Second Piano Concerto was held in the Grand Hall of the Moscow Conservatory. Maxim Shostakovich, to whom the concert was dedicated, performed as soloist. During the next two concert seasons, Dmitri Dmitriyevich consistently included the Second Concerto in his performances in various cities of the Soviet Union.
During the second half of the 1940s, Shostakovich moved to a flat on Mozhaiskoe shosse (now Kutuzovsky Prospekt), where he stayed until 1962.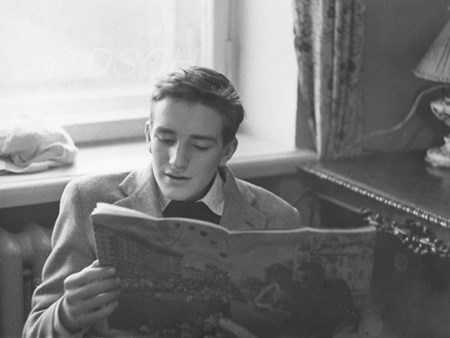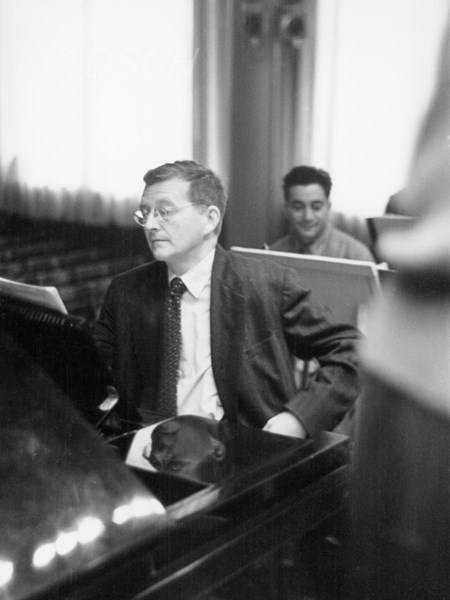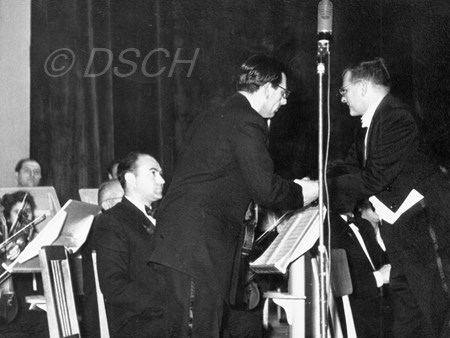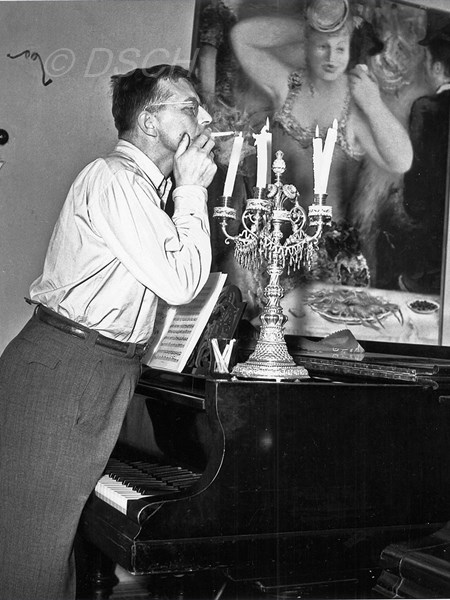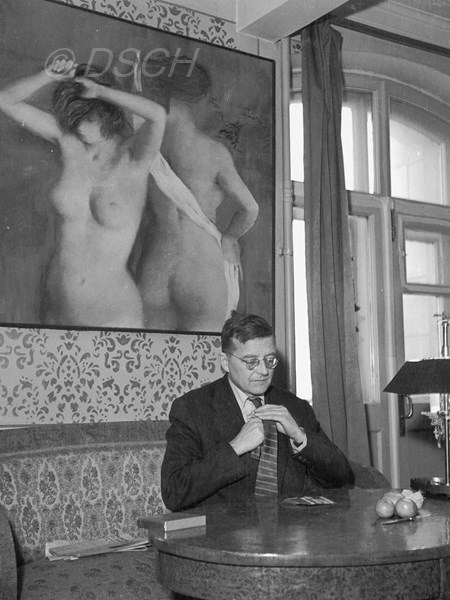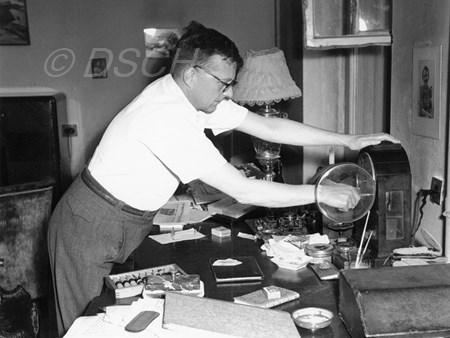 May 10th - Premiere of Piano Concerto No.2 (op.102) dedicated to the composer's son, Maxim.
October 30th - Premiere of Symphony No. 11 "The Year 1905" (op. 103).
Production of the opera "The Nose" in Dosseldorf (ор.15).
Election of Shostakovich as Secretary to the board of the Union of Soviet Composers.
March 31, 1957, Bolshevo
"Life is very busy. I am losing a lot of time and I can't really get down to the Eleventh Symphony. Recently I have been attending the Composers' Congress, where I have been listening to all kinds of speeches.
I enjoyed in particular the speech by Comrade Lukin. He reminded the Congress of the inspiring recommendations made by A. Zhdanov about how music should be melodious and graceful. 'Unfortunately',said Comrade Lukin,' we are not living up to those inspiring recommendations!' There was much else that was valuable and interesting in other speeches.
...In brief about my life: I'm very busy. These trite words nevertheless describe my life exactly as it is..."
April 9, 1957
"All in all the Congress went off well...Yesterday I was elected to the Secretariat, headed by the First Secretary, T. Khrennikov. The composition of the Secretariat you, of course, know. The main thing now is to compose music. Everything else is unimportant."
April 15, 1957, Moscow
"Life is not going well. It is difficult to manage the household. <...> In general, life is hard. Yet, perhaps the end is near. After all I am over 50 now.
By the way, my blooming health and my mighty frame do not allow me to hope that I shall soon be able to wind up my earthly affairs.
All those who loved me can be sure of my love. All those who did me wrong I curse."
August 24, 1957, Leningrad
"I am living in Komarovo now, in total solitude. The children have gone to the Caucasus, Margarita to Moscow...
I hope very much to be able to show you my symphony. You already know that the symphony has a special theme. Each part has a title.
1. Palace Square.
2. January 9th.
3. The Everlasting Memory.
4. Alarm.
P.S. I am dreaming of rehearsals as of a great happiness for the future."
"At the present time my health and profound exhaustion are preventing me from fulfilling a number of commitments which I had taken on: the screening of the film 'Khovanshchina', music for the film 'The Idiot' and the operetta 'Moscow, Cheryomushki'.
Please would you instruct the Mosfilm Studios and the Moscow Operetta Theatre either to cancel the relevant contracts, or to defer the beginning of my work according to these contracts till June 1958."
December 29, 1957, Odessa
"I arrived in Odessa on the day of the celebrations for the 40th anniversary of the Soviet Ukraine. This morning I came out into the street. You, of course, understand that on a day like that you can't sit at home. Despite the overcast, misty weather the whole of Odessa was out in the street. <...>
Everywhere there were flags, slogans, banners. All around there were happy, beaming faces - Russian, Ukrainian and Jewish. Here and there you would hear exclamations of greeting in honour of the great banner of Marx, Engels, Lenin and Stalin and also in honour of Comrades L. Brezhnev, N. Bulganin, K. Voroshilov, N. Ignatov, A. Kirichenko, F. Kozlov, O. Kuusinen, A. Mikoyan, N. Mukhitdinov, M. Suslov, E. Furtseva, N. Khrushchev, N, Shvernik, A. Aristov, P. Pospelov, J. Kalnberzin, A. Kirilenko, A. Kosygin, K. Mazurov, V. Mzhavanadze, M. Pervukhin, N. Kalchenko, D. Korotchenko. Everywhere you can hear both Russian and Ukrainian. Occasionally you can hear foreign languages being spoken by representatives of progressive humanity, who had come to Odessa to congratulate the local citizens on this great occasion. After my walk I was no longer able to control my happiness and, on returning to the hotel, I decided to describe as well as I could this people's festival in Odessa."
December 6, 1957
"The Italian Saint Cecilia Academy of Music has sent to the composer D. Shostakovich, who since 1956 has been an honorary member of this academy, an invitation to visit Italy in 1958, in order that he might acquaint himself with the work of the Academy and the musical life of the country. <...>
The Ministry of Culture of the USSR submits a proposal that D. Shostakovich might be sent with his wife to Italy for a fortnight in 1958.
Draft for a resolution to be passed by the Central Committee of the CPSU enclosed."
"Proposal from the Ministry of Culture of the USSR on sending the composer D. Shostakovich and his wife to Italy for a fortnight in 1958 duly approved."
Zinaida Gayamova,
the composer's secretary:
"...Maxim's entrance exams to the Conservatoire.
It is difficult to imagine how agitated Shostakovich was. He was very tense, and so was Maxim. <...> Maxim started his programme with a fugue by Shostakovich, then he played a Beethoven sonata. I watched Shostakovich and could see how nervous he was. Then came Concerto No.2 and Shostakovich himself accompanied his son. Many people had gathered in the hall, including other would-be students. Maxim played the concerto very well. Indeed the whole of his programme. He was of course very tense , but nevertheless everything went very well. <...> Shostakovich was pleased, Maxim passed with an A."
September 14th
"Despite everything the Ministry of Culture insisted that the first performance of the Eleventh Symphony should take place in Moscow and since Mravinsky won't be coming down or (and they knew it in advance) will not agree to conduct, they invited Rakhlin. I know how upset Shostakovich was, but he could not refuse. They made it clear that this was an instruction from Suslov andFurtseva."
"Now the day of the concert came. The audience came streaming in. There wasn't a single ticket available. You could sense the excitement. The symphony was performed after the interval. <...>
The first few seconds there was silence and then the whole hall burst into thunderous applause and everyone rose to their feet."
(Secret)
"The Eleventh Symphony by Shostakovich will be performed by the French National Symphony Orchestra in the largest Parisian venue - the Palais de Chaillot on March 23rd and 30th 1958. <...>
Considering that Shostakovich's Eleventh Symphony will be performed in the West for the first time in Paris, the Ministry of Culture of the USSR requests permission to send Shostakovich with his wife for two weeks to France."
---