---
In the autumn of 1956, Shostakovich celebrated his 50th birthday. On 15 September, the season opened in the Maly Hall of the Moscow Conservatory with a chamber concert dedicated to his creative work. Shostakovich performed Sonata for Violoncello and Piano in the concert with Rostropovich and the piano part in the vocal cycle "From Jewish Folk Poetry". Richter played three preludes and fugues. On 7 October, the Sixth Quartet finished in the summer was performed for the first time by the Beethoven Quartet, which the author jokingly told his close friends he had written as a present to himself on his fiftieth birthday.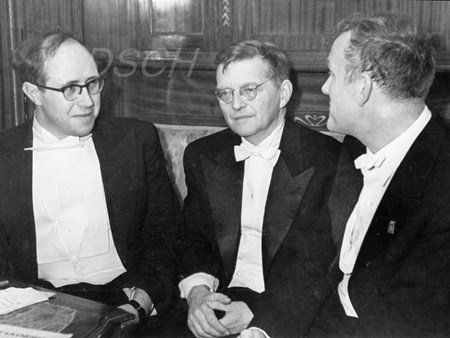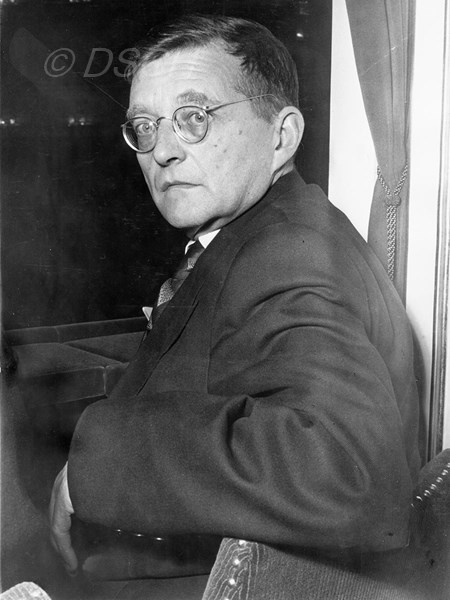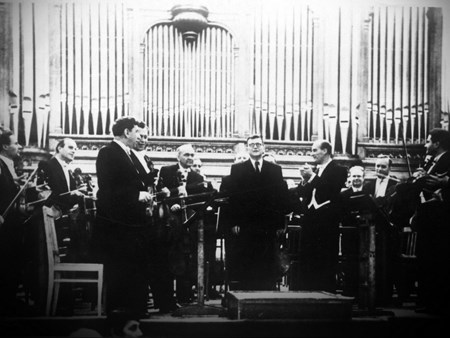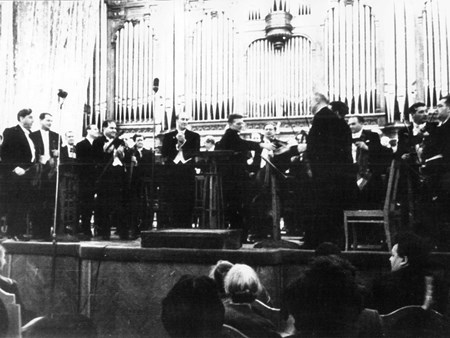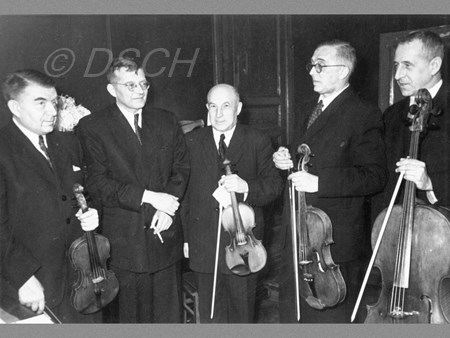 October 7th - Premiere of String Quartet No. 6 (ор.101).
Shostakovich is appointed Chairman of the Organizing
Committee of the International Tchaikovsky Piano Competition.
Marriage to M. A. Kainova.
Shostakovich writes "Thoughts about the Road behind Me".
Italian Saint Cecilia Academy elects Shostakovich an Honorary Member.
March 11, 1956
"I have very little news. Still less good news. The saddest is that since the Tenth Symphony I have composed virtually nothing. Soon I'll feel like Rossini. It is known, that this composer wrote his last work at the age of 40. After that he lived to reach 70, without writing another note. Poor comfort for me.
Tomorrow a commission is coming to my house to listen to my opera 'Lady Macbeth'. This commission is supposed to be deciding the question as whether this opera can or cannot be staged...I am waiting for tomorrow with anxiety and curiosity."
April 3, 1956, Moscow
"When I left, I did not say good-bye to our driver. Please put this banknote into an envelope, seal it and give it him like that from me."
Summer 1956, Moscow
"Life is all right, apart from very bad weather. I am sending you some important news. I have married. My wife's name is Margarita Kainova.
Best wishes, D. Shostakovich."
Zinaida Gayamova,
the composer's secretary:
"On February 25th around 12 noon there was a telephone call. D. Shostakovich was ringing...he offered me the post of his personal secretary. <...>
The whole of the next day I was in festive mood. <...> I went to a meeting attended by composers and their wives. Earlier I had not liked meetings of that kind, since I hated watching all those well-fed, self-satisfied people, who saw themselves as superior to others around them, although in actual fact most of them were far from gifted. I thought to myself that I was happier than they were, because I would be alongside someone who soared above them.
<...> He arrived, kissed my hand and immediately launched into a business-like discussion. He said that he can't work, that they won't let him work. Phone-calls, visits, meetings. He said that my duties would demand that I be in his flat from 10 in the morning till 6 in the evening . I should also have to deal with all the telephone calls. I shall also have to go Leningrad every now and then. <...>"
November 1956
"Margarita Kainova...She is alien to this milieu. Most important of all she does not appreciate his great importance in world art. She doesn't understand that he is a rare man. <...> For her he is a talented man, known to the whole world, but why she doesn't understand. Therefore...she doesn't want to rearrange her life, or perhaps the other way round: after hearing that he is surrounded by the wrong people, that his music often evokes protest from persons high up in arts administration, she feels that she needs to re-educate him, without realizing that this would be incompatible with his inner world and convictions."
---