---
In the summer and autumn of 1953, Shostakovich worked on the Tenth Symphony. It was finished on 25 October. The premiere took place on 17 December 1953 in the Grand Hall of the Leningrad Philharmonic as performed by the Leningrad Philharmonic Orchestra and conducted by Yevgeni Mravinsky. On 15 November 1953, Shostakovich visited the Tchaikovsky House-Museum in Klin, where a celebration meeting was held dedicated to the 60th anniversary of Tchaikovsky's death.
In order to enlarge Maxim Shostakovich's ensemble repertoire, a fifteen-year-old pupil of the Central Music School, Dmitri Shostakovich wrote Concertino for Two Pianos in 1953. Its premiere took place on 20 January 1954, in the Maly Hall of the Conservatory, in which Maxim Shostakovich and Alla Maloletkova performed a duet. In his youth, Maxim was an avid artist. The portrait, he did of Dmitri Dmitriyevich later, became very popular.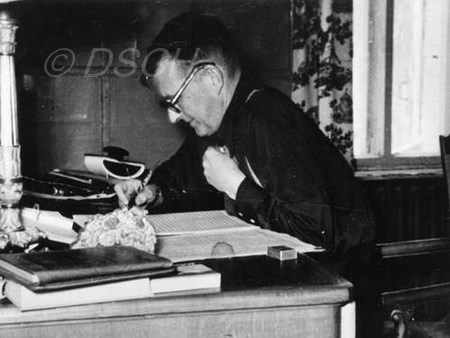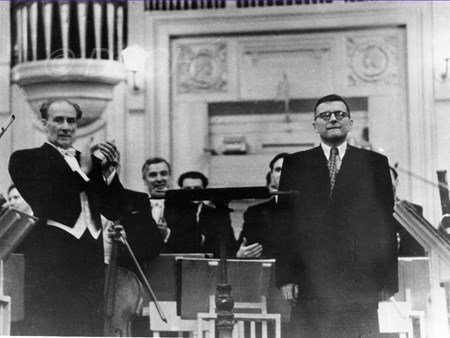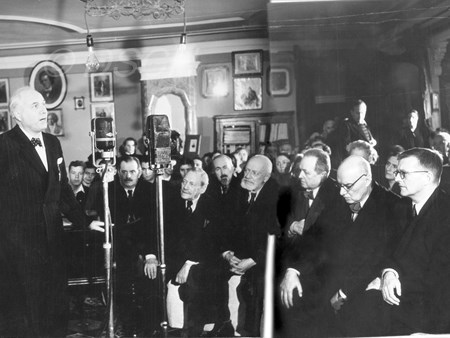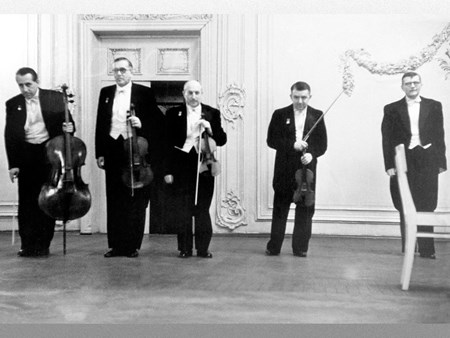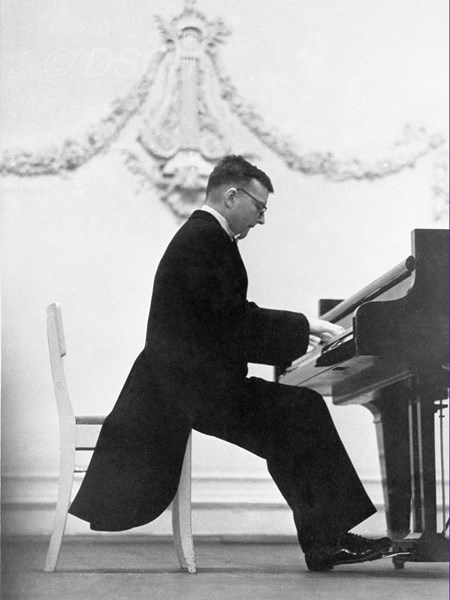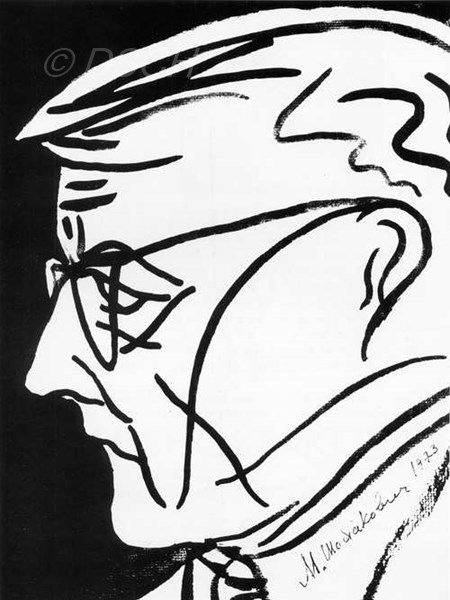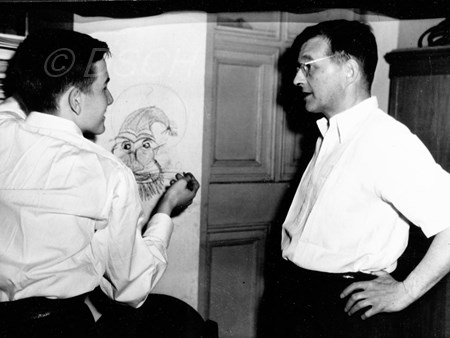 November 13th - Premiere of String Quartet No. 4 (ор.83).
December 3rd - Premiere of String Quartet No. 5 (ор.92).
December 17th - Premiere of Symphony No. 10 (ор.93).
Participation in the festival "Prague Spring".
May 8, 1953
(Secret)
"Shostakovich is in no hurry to write an opera, he is not looking for a worthy subject or for a good librettist. He prefers to write music for films, choirs, quartets and other compositions which do not demand hard work, effort or responsibility.
The Ministry of Culture and the Union of Soviet Composers are not encouraging Shostakovich to write an opera and, by not doing so, they are not helping him to take a firm and final stand with a realistic outlook."
April 19, 1953, Moscow
"Dear Nikolai Semyonovich!
Yesterday (April 18th) the orchestra of the Radio Committee performed my Seventh Symphony. <...> I am not a music critic and not a musicologist. I can't write about music, but as a listener of my own composition, I experienced such happiness yesterday, that defies description. <...> I want to express my heartfelt gratitude."
April 19, 1953
"Your superb, impeccable performance convinced me that sometimes I am able to write music. That is something so important to me, that you just can't imagine it."
May 8, 1953
(Top secret)
"I see it as imperative to inform you of the regrettable situation that is taking shape with regard to the creation of Soviet Opera.
The situation regarding the creation of operas:
Quantitative Indices. Despite a certain renewal of work by composers on operas and a broadening of the range of opera-writers after the resolution by the Central Committee of the All-Union Communist Party (Bolsheviks) on operas in 1948, the expected changes with regard to opera-writing, particularly the writing of operas on contemporary themes, has not taken place in recent years. The situation remains a difficult one and there are no real prospects of fundamental improvements in opera writing for the time being <...>
Most composers are either not writing operas at all or they are working unacceptably slowly. Their work is not organized or guided by the Ministry of Culture of the USSR or the Union of Soviet Composers. <...>
D. Shostakovich. This leading and undeniably talented composer has also not been turning to the genre of opera for many years. The music that he has written for a number of films and even the music he wrote earlier for the formalist opera 'Lady Macbeth' - despite its serious flaws and formalist character - testify to the major potential of this composer and his undoubted ability to write music precisely for operas.
Shostakovich, however, is to a certain degree subject to ideological vacillation: he is clearly under the influence of the cliquishness that exists among composers. The serious signs of contradictory influences and tendencies in the life and work of this composer testify to the fact that he has still not thoroughly and sincerely reformed his ideas and artistic attitudes.
Shostakovich is in no hurry to write an opera, he is not looking for a worthy subject or for a good librettist. He prefers to write music for films, choirs, quartets and other compositions which do not require hard work, effort or responsibility.
The Ministry of Culture and the Union of Soviet Composers are not encouraging Shostakovich to write an opera and, by not doing so, they are not helping him to take a firm and final stand with a realistic outlook."
Gennadii Rozhdestvensky:
"Shostakovich's attitudes to the tempo of his compositions was a very interesting one. I heard that, allegedly, he had a broken metronome throughout his life. <...>
I remember in Paris, Mravinsky was conducting his Fifth Symphony and Shostakovich was present. After the performance Constantin Silvestri came up to Shostakovich in the conductors' room and asked what he thought about the tempo, which Mravinsky had been using in that day's performance of the symphony. Shostakovich answered that the tempos were superb. Then, Silvestri showed him the score and said: 'How come? The tempos indicated in the score do not match those in today's performance.' Shostakovich answered somewhat sheepishly: 'The tempos in my score are also correct ones.'
I think what was important to him was the conviction in the interpretation, the expression of the essence of the work, rather than precisely keeping to the metronome signs or written instructions. A performance he found convincing must have been more important to him than the instructions he himself had written."
---