---
On 20 March, Shostakovich flew to the USA (via Berlin) with a delegation of representatives of Soviet science and culture. On 20-22 March, he was in Berlin, and on 23-29 March in New York, where he participated in the Congress of Representatives of Science and Culture for the Protection of Peace. 
On 15 November 1949, the premiere of the oratorio "Song of the Forests" was held in the Grand Hall of the Leningrad Philharmonic.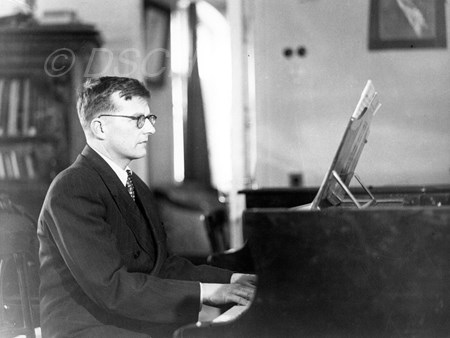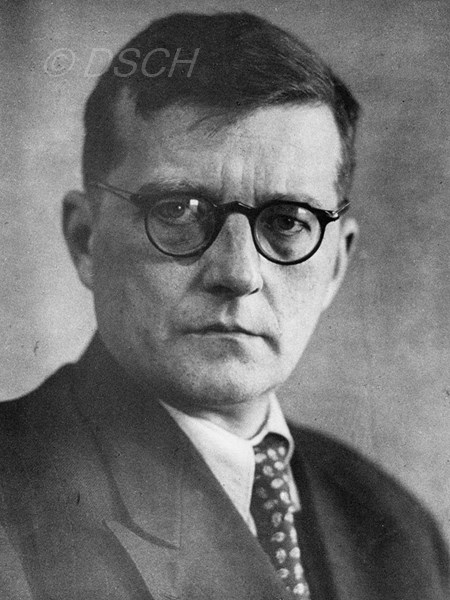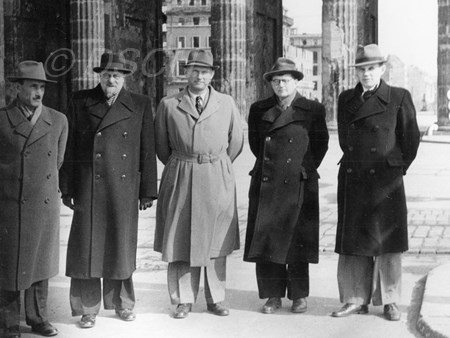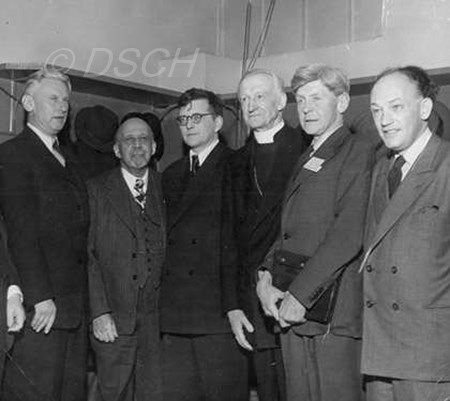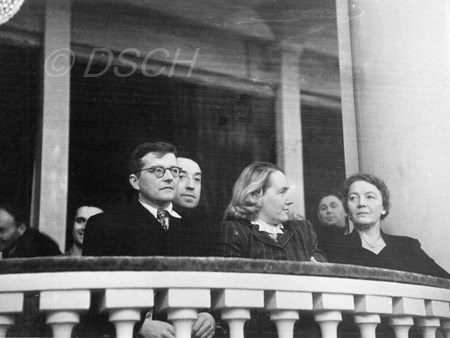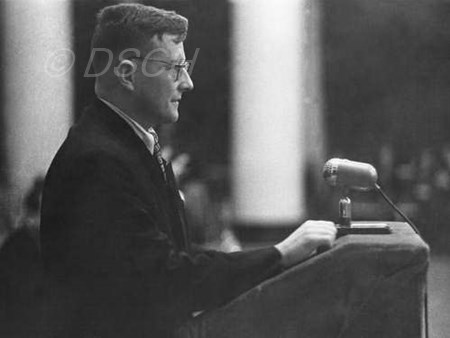 Shostakovich a member of the Soviet Peace Committee.
As a member of a Soviet delegation he visits New York.
Composition of the Oratorio "The Song of the Forests" (op. 81) and String Quartet No. 4 (ор.83).
Release of the film "Meeting on the Elbe" (ор.80).
January 22, 1949
"Life is not too good. I am working a great deal, wearing myself out, till I can take no more."
December 21, 1949
"During my illness I got hold of the score of one of my compositions. I went through it from start to finish. I was struck by the merits of this work. I felt that since I had composed something like that, I could be proud and at peace. I was amazed that this composition had been composed by me."
March 5, 1949.
"The Committee for Art affiliated to the Council of Ministers of the USSR has looked through the repertoire of concert bodies and removed a number of works of formalistic tendencies.
The list of works that are banned from performance and taken out of the repertoire includes the following works by D.Shostakovich:
Symphony No. 6
Symphony No. 8
Symphony No.9
Piano Concerto
Octet
Piano Sonata No.2
Romances on verses by English poets
'Aphorisms' - a cycle of pieces for the piano.
These works were banned on orders from the Main Department for the Control of Productions and Repertoires dated February 14, 1948.
Other compositions by D.Shostakovich such as two String Quartets, his Symphonies Nos. 2 and 3 and his Trio are not banned, while his finest works the Piano Quintet, Symphonies Nos. 1, 5 and 7, his film music and songs may be performed at concerts."
March 10, 1949
"In connection with the forthcoming visit of the composer D.Shostakovich as a member of the Soviet delegation to the Peace Congress, Comrade Panyushkin submits a question on the possibility of his performing at concerts.
Comrade Shostakovich considers that he may take part in a chamber concert of his own works, recommending that the concert programme should include his Quintet and Trio and also one of the String Quartets. Shostakovich's suggestion for the Beethoven Quartet to be sent to the USA at the same time cannot be approved because of the compromising material on some of its members.
If symphony concerts of Shostakovich's works are organized with the participation of the conductors Toscanini or Koussevitzky, it would be possible to include in the concert programme Symphonies Nos. 5 and 7, the suite from the film 'The Young Guard' and various songs. It would not be expedient to include Symphonies 8 and 9 that have been condemned by the Soviet public.
Comrade Shostakovich also asks for his wife Nina to be allowed to travel with him. N. Shostakovich has travelled abroad with her husband before. Shostakovich's son and mother will be remaining in Moscow.
I await your instructions."
April 17, 1949
"Life is going all right, except that I am spending the money I've earned too quickly. Now I am feeling tired though and can only earn slowly. I'm dreaming of finding a rich admirer and embarking upon a creative relationship with her in the style of 'Tchaikovsky and Madame von Meck'."
Irina Shostakovich,
the composer's widow:
"What was Shostakovich's relationship to Stalin?"
"It is difficult to say, who knows! With regard to the opera 'Lady Macbeth', Shostakovich had the impression that it was not the music which Stalin disliked so much, but the killer being punished. Since he himself was steeped in the blood of innocent people, this was not something pleasant for him. When the Resolution was passed on Muradeli's opera 'The Great Friendship', Shostakovich's works were removed from the repertoire. Then a courier from the Committee for the Arts was sent to every musician with a bulletin saying precisely which works were banned from performance and they had to sign to the effect that they had received it. Yet when it was suggested that Shostakovich should travel to the USA and he refused, then Stalin really did telephone and insisted that Shostakovich should go after all. The composer said:
'How can I go, when my music is not performed here and is banned?'
'By whom?', asked Stalin.
'By the Main Repertoire Committee.'
The very next day a unique document appeared - a reprimand was issued for the Main Repertoire Committee - and Shostakovich's works could be performed once again."
---