---
In July 1943, Shostakovich began composing the Eighth Symphony in Moscow and continued working on it at the Guesthouse for Composers in Ivanovo, which was established on the grounds of a poultry farm. He very quickly wrote a large part of the composition in his office which was set up in what used to be a hen-house.
Beginning in the mid-1930s, all cultural contacts with foreign countries were carried out through the All-Union Society of Cultural Relations with Foreign Countries (VOKS). At VOKS, Shostakovich became acquainted with the foreign editions of his compositions, with innovations in contemporary foreign music and literature, and met with foreign musicians.
In March 1943, Shostakovich finished working on the Second Piano Sonata at a sanatorium near Moscow. After spending time in evacuation Shostakovich came to Moscow and began teaching at the Moscow Conservatory in June 1943 and worked there for five years, until he was dismissed in 1948.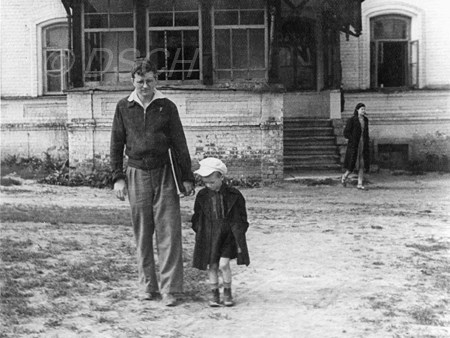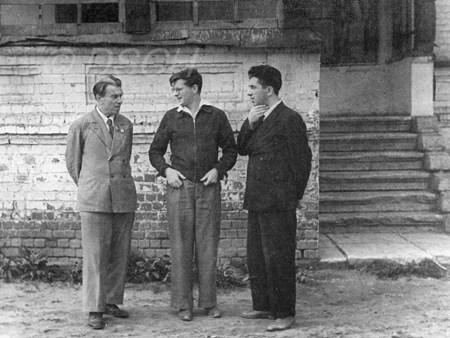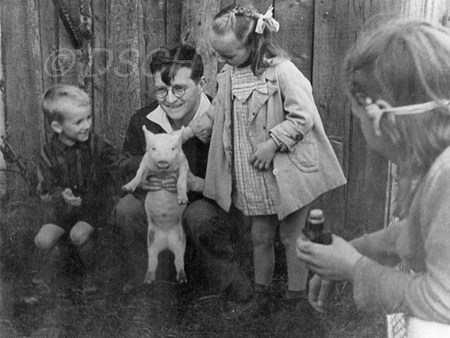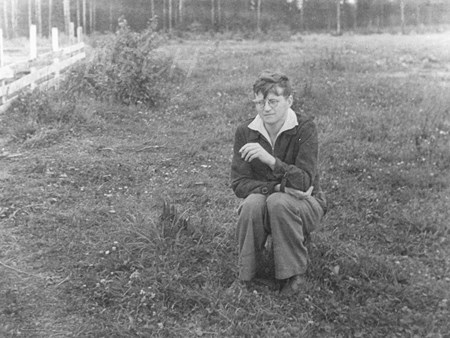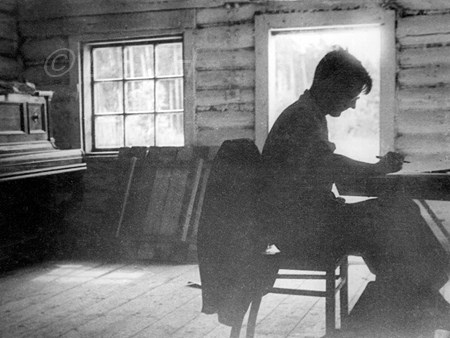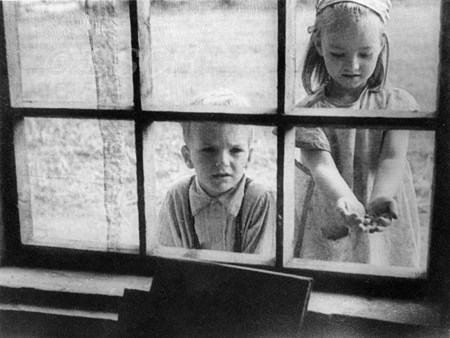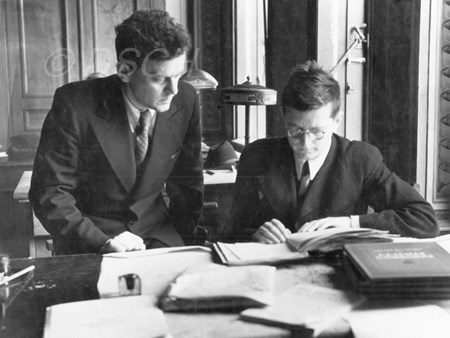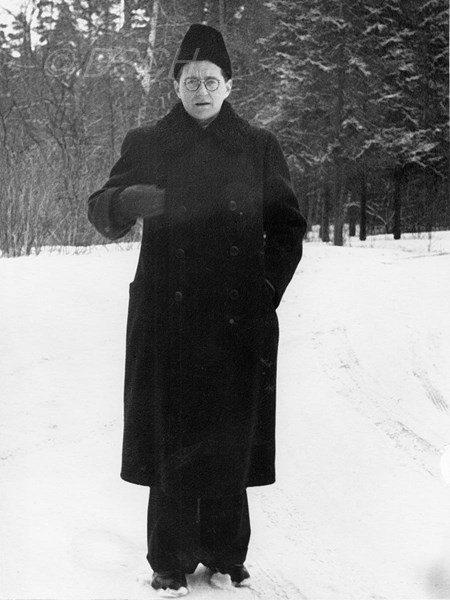 June 7th - First Performance of Piano Sonata No. 2 (ор.61).
November 4th - Premiere of Symphony No.8 (ор.65).
Performance of Symphony No. 7 in Montreal, Melbourne, Buenos Aires, Montevideo and Santiago.
Election of Shostakovich as an Honorary Member of the American "Institute for Art and Literature".
February 1943
"...from yesterday I started getting up. Yesterday I spent about two hours out of bed. Today three hours. Tomorrow even more and so on. In ten days I shall start going outside and I'll be all right again..."
April 21, 1943
"I am now in the process of moving to a new flat. There is no telephone yet. Our belongings haven't come yet either. Just the bare walls. Yet I have definitely decided to stay in Moscow."
May 26, 1943
"My life is full of twists and turns. I get very tired from too many activities (meetings, conferences and so on)..."
January 12, 1943, Kuibyshev
"...I am sitting in Kuibyshev bored to tears. It's very tedious here. The main problem is the absence of any musical life and a circle of friends. My efforts to move to Moscow have not succeeded...I just don't get any answer. So I'm having to get used to the idea of a long stay in Kuibyshev. I am not doing much work. I'm more involved in obtaining food and sometimes with success. <...> I shall be writing some music for some film or other for an appropriate remuneration."
January 9, 1943, Kuibyshev
"I'm working a lot but in a haphazard fashion: I start one thing, then I drop it and have little to show for it. As a result I have only written Five Romances based on Robert Burns (Marshak's translation), Walter Raleigh (Pasternak's translation) and Shakespeare (Pasternak's translation). My mother is now in Samarkand, where she went by train to visit my sister in Zoya. Otherwise things are as before. Everyone is more or less well and all right."
February 2, 1943
"I have already recovered and on the 12th I shall get up and start learning to walk. I have been ill with typhoid, according to the professor... who has been treating me. I was walking around ill for ten days and only when it became unbearable did I seek medical help. I have been in bed for 23 days already.
I listen to the radio in my bed. The set is on all the time. From the radio I learnt that the best performers in the musical world are to receive prizes . I immediately sent a telegram, in which I put forward your name and also those of Oborin, Sofronitsky, Oistrakh, Daniil Shafran and the Beethoven Quartet (I didn't know that there would only be four prizes).
When I am fully recovered, I shall go to Moscow..."
March 1, 1943, Kuibyshev
"Tomorrow I am leaving for Moscow and from there to a sanatorium, where I shall spend about two weeks. I shall spend about that long in Moscow too. Then I shall come back to Kuibyshev. I want to tell you that I shall attempt to settle in Moscow on a permanent basis, although I can imagine what difficulties this will involve. I am completely recovered, although I get very tired from walking. But in time this will also pass."
March 1943, Arkhangelskoye
"It's lovely here, but I don't like sanatorium life and I am very bored. <...> I am suffering from graphomania. I have composed almost a whole piano sonata, orchestrated my Romances...I'm writing the piano-score for the opera 'The Gamblers' - it is far from being finished and has little chance of being finished. I am continuing to work on the score for the above opera and so on. Apart from work, even if it is purely technical (for example, work on the piano score), I feel down and don't know what to do with myself, although there aren't many reasons for it (nerves, i.e. my difficult character)."
March 15, 1943, Moscow
"Now that I am back in Moscow I shall start teaching at the Moscow Conservatoire, where I have been taken on as a professor. I shall have 1 (one) post-graduate. Here I have already finished a Piano Sonata in three parts. I have not got a flat in Moscow yet, but I am promised one."
May 6, 1943, Moscow
"A few words about myself. I have moved to Moscow. Nina is here with me. The rest of the family is in Kuibyshev. When I get life sorted out here (and so far, apart from a good flat I have absolutely nothing. We have to start from scratch again), I shall bring the others here. I am very pleased about this move, but things are very difficult here for the moment. So difficult that I am unable to work for the time being. Approximately six weeks ago I wrote a Piano Sonata. I haven't written anything else though. I want to get down in earnest to 'Bluebeard'. I am enjoying this work and look forward to completing it."
May 26, 1943
"My life is full of twists and turns. I get very tired from too many activities (meetings, conferences and so on). The domestic side of life is in total disarray, but I am not letting this get me down. From now on write to me at this address because I have managed to fix up a letter box..."
December 8, 1943, Moscow
"It's a pity that you didn't hear my Eighth Symphony. I was very pleased with its reception. Mravinsky conducted it here four times. On December 10th he will be conducting it for the fifth time. There was due to be a discussion about it at the Union of Soviet Composers, but it was postponed because of my illness. The discussion will now take place and I don't doubt that valuable critical comments will be voiced, which will inspire me for new work, in the course of which I shall reassess my earlier works and instead of taking a step back I shall take a step forward.
Now I am writing a Trio for piano, violin and cello."
Yevgenii Mravinsky:
"Which symphony by Shostakovich do you like best? The Eighth?"
"Yes, yes. The Eighth is a superb model of pure music brimming with inner substance. I am particularly fond of the first part. In my view it could even exist as a work on its own. This is a rare case. Another exception is the first part of the Seventh Symphony. It could also exist independently of the rest of the Symphony."
"What difficulties did you encounter in your work with Shostakovich's music?"
"There is some music which I find therapeutic, healing. Bruckner is an example, although he is accused of orthodoxy. His music is a source of comfort.
Shostakovich caused untold heartache, because he compelled us to bring to life things that are far from happy ones. Yet there were hardly any technical or professional difficulties - Shostakovich has an amazing capacity for hearing the detail in his own music."
---