---
Throughout his entire life, Shostakovich showed a great interest in musical instruments and inventions in this area. In the score of the film Alone (1931), he introduced the sound of the first Soviet electronic musical instrument called the Termenvox (Theremin). Later, he became acquainted with the Emiriton electronic keyboard designed by A.Rimsky-Korsakov, A.Ivanov, L.Kreitser, and V.Dzerzhkovich, and with the Variofon, intended for optical recording of music on cinema film (invented by E.Sholpo).
Shostakovich began writing the Seventh Symphony in besieged Leningrad in the summer of 1941. In August, while working on the first movement of the symphony, he lived in the conservatory in barracklike conditions as a fire fighter. In October, Shostakovich was evacuated to Kuibyshev, where he finished the symphony. On 5 March 1942 in Kuibyshev, its premiere took place as performed by the orchestra of the Bolshoi Theatre conducted by Samuil Samosud. On 19 July, the Seventh Symphony was performed for the first time in the USA conducted by Arturo Toscanini. On 9 August 1942, the symphony was performed in blockaded Leningrad by the Great Symphony Orchestra of the Leningrad Radio Committee conducted by Karl Eliasberg.
In the autumn of 1940, Shostakovich and artist Natan Altman were invited by Grigory Kozintsev to participate in the work on King Lear at the Gorky Grand Drama Theatre. The premiere of the play was held on 24 March 1941.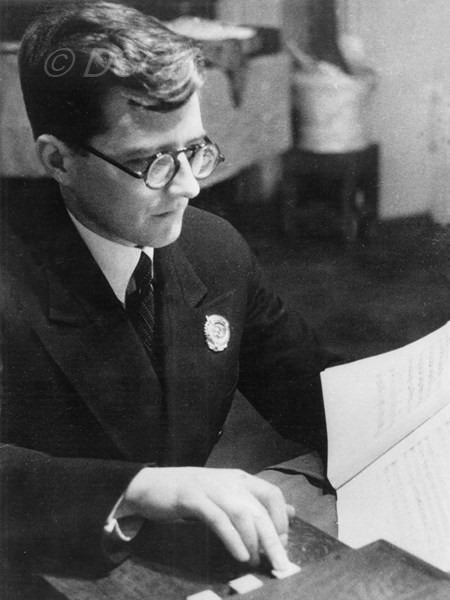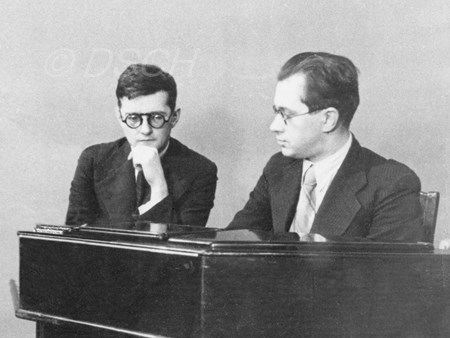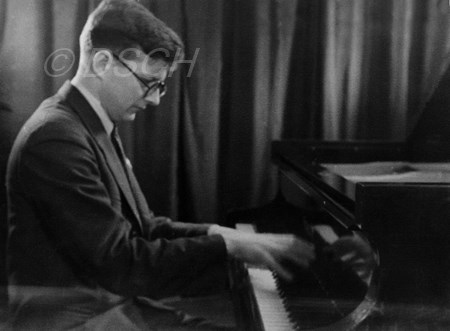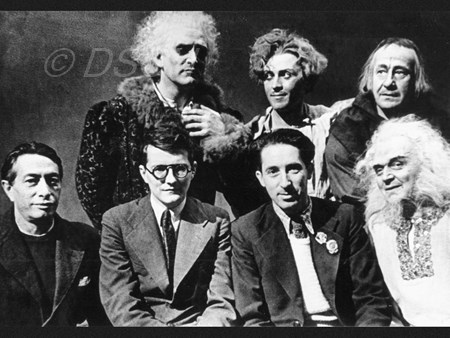 December 27th - completion of Symphony No.7 (ор.60).
Move from Leningrad under siege to Moscow and later Kuibyshev.
"At the beginning of the war on June 22nd or 23rd I applied to be taken on as a volunteer in the Red Army. I was told to wait a bit. I applied a second time immediately after hearing Comrade Stalin's speech, in which he talked about the People's Volunteer Corps. I was told that they would take me on, but in the meantime I should continue working where I was <...>."
"An hour ago I completed the second part of my new symphonic work. <...> Why do I tell you about this? I am telling you about it so that radio-listeners who are listening to me now should know that life in our city is proceeding normally. All of us now are doing our bit."
"I have turned over the first page of my new calendar. How did my first working day in the New Year go?
In one of the lecture-halls at the Order of Lenin Conservatoire in Leningrad my students were waiting for me.
<...> Creative interaction with young people brings me great joy and satisfaction. Hours of intense teaching flew by unnoticed.
In the eveningI went to the Philharmonia. Together with the Glazunov Quartet I played my Quintet, a work which I finished in 1940, that intensely creative year. After a short break the orchestra, under the baton of that leading Soviet conductor Mravinsky, performed my Fifth Symphony."
January 4, 1941
M. Zoshchenko:
"...it seemed that he is a 'frail, fragile, introverted and incredibly spontaneous and pure child'.
This is so. Yet if that had been all there was to it, then enormous artistic achievement (like his) would not have come to anything. He is tough, caustic, incredibly clever, probably strong, despotic and not very kind...
This is the combination you have to appreciate in him. Then, to some extent, it will be possible to understand his art.
In Shostakovich there are enormous contradictions. One thing blots out another. There is conflict to the highest degree. <...> This is a wise man and, of course, a very genuine one."
January 28, 1941
"I am sending you a complete list of my works. Every time when I have to write it I can't help thinking that there are plenty of Opuses, but not much to show for them...
If there is a cross (+) at the end of a date, that means the following: this work is not published because I consider it not worth publishing because of its quality.If there are two crosses (++) it means that the work is not published and has not been performed for the same reasons. In this connection the question arises: Why do I include this work in my list, if it can't even be performed on account of its poor quality and why do I even give it an Opus number? The answer I would give as follows: 'it is already written in tablets of stone!' "
June 4, 1941, Leningrad
"I am now horribly busy. So much so that I only go to football matches on Sundays. Sometimes I don't even manage to get there on Sundays. This'll all be over by the last week of June. Then things will get easier. At any rate I'm doing a good deal of thinking. I think that the Moscow 'Dynamo' team is going to win the championship. The players from Tbilisi's club of the same name as the future champion's I do not like very much. I saw them in a match against 'Spartak'."
July 5, 1941, Leningrad
"Since I am sure that you and I will be watching the Soviet football championship again, I am sending you a list of the results for 1941."
September 18, 1941
Sophia Shostakovich:
"Yesterday, against the din of the ack-ack in a small group of composers Mitya...played the two first parts of his Seventh Symphony...
On September 14th a concert for the war effort took place after all in front of a capacity audience. Mitya played his Preludes...
How I pray to God, that He should spare his life...At moments of danger I feel as if I'm sprouting wings and they help me to overcome problems. Yet, nevertheless I am still turning into a useless and whiny old woman...
The enemy is on the rampage up here, but we are still alive and healthy..."
"I remember the dates very clearly. The first part was completed on September 3rd, the second on the 17th and the third on September 29th. I worked during the day and at night-time as well. Sometimes as I worked the ack-ack guns would be firing and the bombs falling, but I still went on writing.
On September 25th I celebrated my birthday in Leningrad. I was 35."
November 30, 1941, Kuibyshev
"I lived in Leningrad till October 1st. On September 3rd I completed the first part of my Seventh Symphony. On September 17th - the second one and on September 29th the third. It was possible that I would have finished the fourth part soon, but it is still not ready yet and, what is worse still, I haven't even started it. There are probably several reasons for this. The main one is that I am tired from all the strain that went into writing the first three parts. As you have already noticed, creative concerns get me very worried and that's why I'm starting my letter with all of this. On September 30th at eleven a.m. I had a call from Comrade Kalinnikova from the City Committee of the All-Union Communist Party (Bolsheviks) who told me that on October 1st I am to fly to Moscow. This meant that on October 1st my wife and I with our two children left our beloved home city.
On the way we lost two suitcases with clothes and underwear. Apart from that we used up all our food stocks. On October 22nd we got to the town of Kuibyshev. We have settled into the Bolshoi Theatre's hostel."
"Dear Mama! Yesterday I was summoned to the Deputy Chairman of the Council of People's Commissars, Comrade Zemlyachka. She was very understanding about our situation and promised to help with everything so that I could have normal living conditions. Of course, what I asked for first and foremost was for her to arrange for you to join us here. She promised to do this come what may. I wrote to you before that we now have a room of 22 square metres. The room is very nice and very warm. It has central heating, which works beautifully. I also have a pass for the Council of People's Commissars canteen. I get a wonderful lunch there and so-called dry rations. These consist of butter, milk, sugar, tea, cream, butter-milk and so on. So our children are well supplied with food. They are eating well and even gaining weight. Don't worry about us. We have everything we need. I have even started to compose the fourth part of the Seventh Symphony. Zemlyachka promised to get me a second room. Then life will be perfect, namely I shall be able to work. A few days ago I was given a piano, quite a decent one. Sometimes I play four hands with Lev Oborin, who is also here..."
November 30, 1941
"I'm not allowed to leave Kuibyshev at the moment <...> They ask me to stay here <...> Besides they are keeping me here because of a possible trip to the USA. I personally am refusing to go on this trip, because I don't want to go in the slightest. I want to finish my symphony as soon as possible and I want to be in my own country and not abroad.
That's probably all I can tell you about myself for the moment. My mother and my sister with her son are in Leningrad..."
December 22, 1941
"Now I have a separate flat with two rooms. Life is getting easier and I am completing the finale of my symphony <...> It is possible that we shall be joined here by my mother."
---