---
In the autumn of 1940, Shostakovich finished composing the Piano Quintet. On 23 November, its premiere was held in the Maly Hall of the Moscow Conservatory as performed by the Beethoven Quartet and the author. On 15 December 1940, Shostakovich performed the Quintet with the Glazunov Quartet for the first time in the Maly Hall of the Conservatory in Leningrad.
The First Concerto for Piano and Orchestra, which was performed for the first time on 15 October 1933, became one of the most frequently performed compositions by Shostakovich the pianist by the end of the 1930s. He performed the Concerto with different orchestras and conductors. In the prewar cinema chronicles, shots have survived which record the performance of the Concerto with the State Symphony Orchestra conducted by Alexander Orlov and solo trumpeter Leonid Yuryev. In 1940, at the Mosfilm Cinema Studio, director Ilya Trauberg made a film called Concert Waltz, the first item of which was the Waltz from the film The Golden Mountains, performed by a symphony orchestra (conductor Alexander Melik-Pashaev) with Shostakovich at the piano.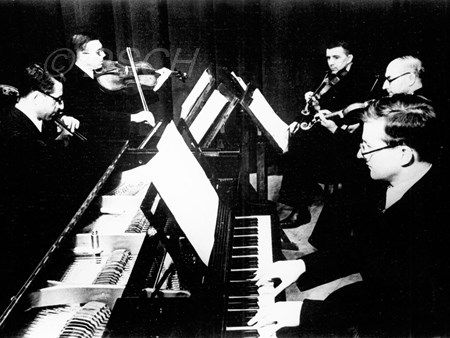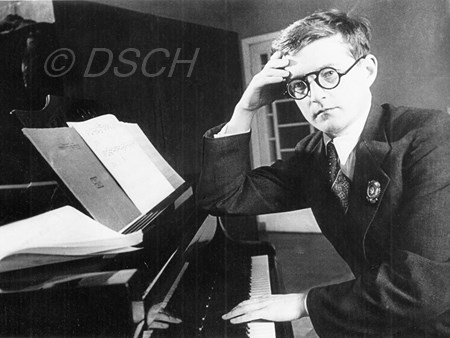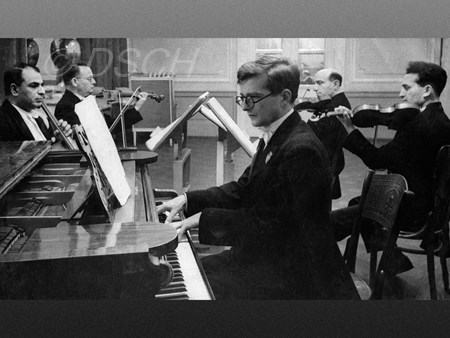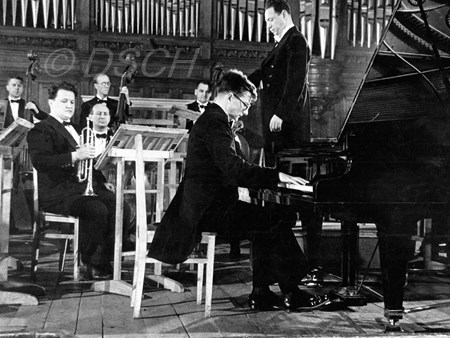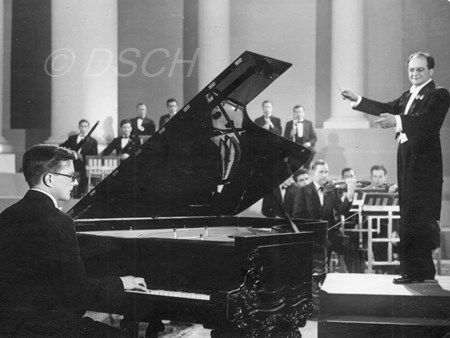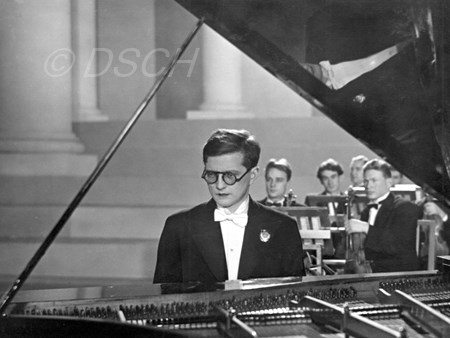 New orchestral arrangement of the Mussorgsky opera "Boris Godunov" (ор.58).
November 23rd - First Performance of the Quintet performed by the author and the Beethoven Quartet (ор.57).
Music for Shakespeare's tragedy "King Lear" (ор.58а).
Premiere of Symphony No. 6 in Philadelphia and of the Quintet in London.
Film "Korzinkina's Adventure" (ор.59).
July 3, 1940
"There is a major temptation in town for me: football matches for the USSR championship. I have great affection for this enlightening spectacle and over the last five years I haven't missed a single game."
"I remember how much pleasure I derived from the occasion when the Leningrad party activists listened to my Fifth Symphony, when I had just finished it. I should like to express a wish for new musical works to be played before a Party audience.
Our Party pays such close attention to the development of every aspect of musical life in our country. I myself have been aware of this attention throughout my creative ife. When I was still a student at the Conservatoire the Party organization came to my assistance by providing me with an instrument for my work at home. To this very day I am aware of the Party's attention to my needs at every step, in every detail of my day-to-day life...
I am not celebrating a jubilee, though, and I do not intend to sum up what I accomplished so far or to determine what I plan to do later. All I can mention, however, is my endeavour to create new positive works with life-affirming pathos capable of filling men's souls with courage, zest for life and thirst for the struggle."
January 15, 1940, Leningrad
"...I do not consider myself capable of embodying the image of Comrade Molotov in music, because this would be too complex a task and it would demand a great deal of work, skill and, most of all, time..."
April 23, 1940
"I am shaken by the great success scored by the 'Krylya Sovetov' team in their match against 'Spartak'. This is a major sensation. The victory of 'Krylya Sovetov' over 'Spartak' astounded me so much that I couldn't sleep and decided somehow to let off steam to you. <...> I know nearly all the Leningrad players by sight now..."
July 3, 1940
"Tomorrow early in the morning I am leaving for the dacha in Luga, where my family has already been living for a month. I shall be there until July 20th and after that I shall start coming into town again. In town I have a great temptation: football matches for the USSR championship. I have great affection for this enlightening spectacle and over the last five years I haven't missed a single game. In this field I have already acquired some expertise and am now an academically inclined spectator.
On one occasion the local radio station came up with the idea of broadcasting conversations with 'prominent' Leningraders on the subject: 'Your creative plans'. These conversations were of a relaxed everyday nature. The conversation with me was arranged as follows: I play the piano. The bell rings. Our 'Own Correspondent' enters and interrogates me about my creative plans. The whole of this lively scene is recorded on tape and is then broadcast. I happened to hear the whole programme and I liked very much the way I played the second part of my Sixth Symphony. I regretted very much that the bell interrupted it and the 'conversation' had to follow."
September 3, 1940, Leningrad
"Yesterday I started at the Conservatoire. I'm sad about it. There are no football matches in Leningrad at all.
I have written the fourth part of the Quintet. I hope soon to write the fifth and then this Opus will be off my back."
September 21, 1940, Leningrad
"...things are rather miserable. Soon it'll be October. That'll be the end of our football. Then we'll have a long, wretched wait till May."
Rodion Shchedrin:
"I remember, how we travelled to Dilizhan and Shostakovich happened to ask me: 'If you turned up on a desert island and you could take only one score with you, which would you choose and answer quickly. I'll give you 15 seconds'. I said - Bach's 'Art of the Fugue'. In answer to my similar question, Shostakovich replied just as quickly:' Mahler's- Lied von der Erde'. Later, after 10 or 12 years had passed, in reply to the same question Shostakovich answered without any hesitation:' Das Lied von der Erde'. In Dilizhan Shostakovich very much enjoyed going to football matches. He was a passionate football fan and was a great expert in the game. In Leningrad some time back he even refereed football games. There is even a photograph: Shostakovich applauding a goal at the Dynamo Stadium. In the composers' House for Creative Work in Dilizhan two football teams were organized. Babadzhanyan led one and I the other. Shostakovich was a passionately keen and very fussy referee. Once when the composers were playing particularly badly and the ball kept landing in the apple trees, the referee - Shostakovich - blew a sharp blast on his whistle. He said: 'If you go on messing about like that, both teams will be disqualified for life.'"
---