---
The stage history of the second ballet The Bolt, performed on the GATOB stage by Fyodor Lopukhov, proved very short: the dress rehearsal on 8 April 1931 was the only public showing of the ballet, immediately thereafter it was removed from the repertoire.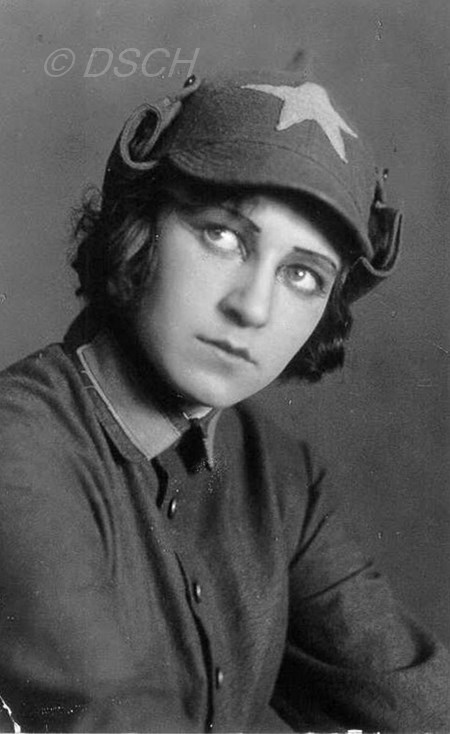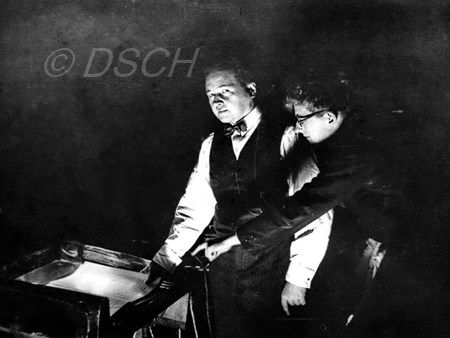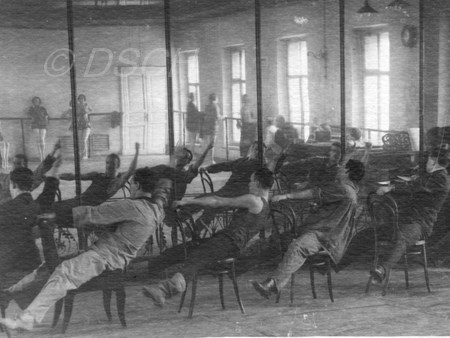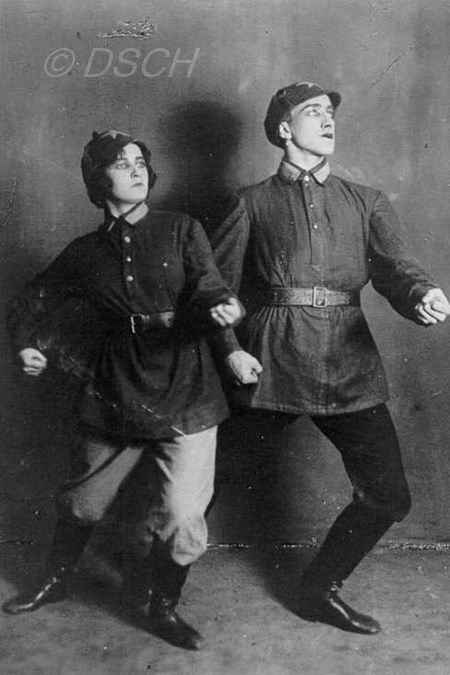 April 8th. Premiere of the ballet "The Bolt" (op. 27).
October 10th. Premiere of the film "Alone" (op. 26).
October 20th. Premiere of the stage review "Hypothetically Murdered" in the Music Hall (oр.31).
November 6th. Premiere of the film "The Golden Mountains" (oр.30).
Publication of "Declaration of a Composer's Obligations".
In the USA. Toscanini conducts Symphony No.1 (oр.10).
"There can't be music without ideology... That's why Soviet music perhaps will develop in totally new ways, different from all those the world has known before... After all, we have entered a New Age and history has shown that each new age creates its own language..."
September 31, 1931
"With nothing to do I wandered into the shop 'Krymgiz'. There I saw, next to the immortal masterpieces of Belodavidenkov, your 'Song of Industrialization'. Why do you write such sh..? I can almost imagine to myself already your article in defence of Davidenko, which will be published in 'Literaturnaya gazeta'.
Buy your glory, buy it!"
October 1931
"Your attack against me is justified. 'The Bolt' really is sh... (compared to Davidenko this is of course pure Beethoven). I consider, however, that is not up to people like Sara Krylova to judge my music. Therefore, it was your duty to come to my defence, even if insincere, and not to show solidarity with S. Krylova and not to find the same failures in Davidenko's music as in mine (sic!). All the more so, since you do not know 'The Bolt', but criticized it nevertheless, bowing down before the supreme authority of Citizen Krylova. Realign yourself, rearm yourself.
Your devoted D. Shostakovich."
"All work in any theatre or cinema for sound pictures has been clich*d for a long time (I exclude from this list the work at Meyerhold's theatre). Music there tends to underline 'despair' or 'rapture'. There are certain 'standard' numbers in the music: the banging of drums when a new hero comes in, a 'cheerful' or 'sporty' dance for positive heroes, a 'fox-trot' for decadence and again 'cheerful music' for the happy finale. That is the 'material' for a composer's work. One should not do this, it is a crime in the face of Soviet music, for which we are responsible to the Party and the government of the working class, to reduce the role of music to an unashamed imitation in keeping with the taste and the creative method used in a theatre, negative and often disgraceful ('Hypothetically Murdered' at the Music Hall). The composer becomes a faceless non-entity. Slapdash and clich*d work in the theatre corrupts, high quality is lost <...> To sum up. Long live the leading role of music in musical theatre! Away with faceless composers! Get away from drama theatre and sound pictures! Get away from music theatre when creating a Soviet musical spectacle!
I am completing this article with an incident from my biography. With a heavy heart I promise the Vakhtangov Theatre that I shall write for them music for 'Hamlet'. As regards 'The Negro' and 'Hardening Cement' I shall tear up the contract in a few days and return the advance. I am not able any more to be faceless and deal in clich*s. In this way I intend to clear the way ahead of me for a major symphony, dedicated to the 15th anniversary of the October Revolution. I declare to all my future 'customers' from drama theatres and film studios that I am turning my back on this kind of music for the next five years."
Leo Arnshtam:
"What is totally alien to Shostakovich is disjointed dramatic music. This great composer of symphonies has brought to the cinema a form of classical symphony as well. His music always consists of several large planes. Even when, because of the demands of cinematic production, the music has to be broken up into separate fragments, even then, if you put them back together, you will see and you will hear part of a symphony. There are many examples, but I shall turn to one ... 'The Golden Mountains'. Shostakovich wrote for it a grandiose fugue for organ and orchestra. The fugue was held together by a very complex counterpoint - the strike scenes in Petersburg and in Baku, workers' strikes. One might have thought that these two things would be incompatible, but there lay the heart of the equation ... the fugue with its iron steps suddenly lent such importance to what we might have seen as a passing episode, that it became one of the central moments of the film."
Leonid Trauberg:
"For a quarter of a century we used to meet and work every day and I could say a great deal... They say that the king is played by courtiers. In art I have seen so many kings being played by courtiers. They deliberately presented themselves as geniuses. Yet this was a trait I never came across in Shostakovich. He was always an essentially normal human being, never trying to impress anyone with his genius. That is why he was a genius. His music was not regal either. Handel often used to take tunes and strains from the street for his splendid oratorios. Various other great composers did the same. Shostakovich was determined never to reduce any music to the level of that despised term ... 'street music'. If you take the film 'Alone' it is amazing how much he put into it: some kind of street march, an amusing sentimental melody, a lively little song, a fiery revolutionary one ... "No-one shall take away from us the Road we have Trodden". All this he embraced with delight. The silly song about the Blue Balloon he re-orchestrated five times for our film. In the prelude to 'Maxim's Youth' he used a street song saying 'This is a very good tune, a very infections and cheerful motif'. For him there was no such thing as low-level music. This quality of his was reflected in the 'Maxim Trilogy' and also in 'The Counterplan' and in 'The Golden Mountains'. This is why his music is the real music of the modern age."
---