---
At the beginning of 1929, Shostakovich quickly and, as he recalled, 'with great delight' wrote the music for Mayakovsky's faerie comedy The Bedbug, which was staged at the Meyerhold State Theatre (GosTIM) by Vsevolod Emilyevich Meyerhold. According to Igor Ilyinsky, who performed the role of Prisypkin, both Mayakovsky and Meyerhold were enthralled with Shostakovich's music: 'It's just the thing!' The art directors were the Kukryniksy (scenes of the present) and Alexander Rodchenko (scenes of the future). The premiere was held on 13 February 1929.
At the end of 1929, Shostakovich began working with the Leningrad Theatre of the Working Youth (TRAM). One of Shostakovich's TRAM plays was The Gunshot based on a satirical play by Alexander Bezymensky.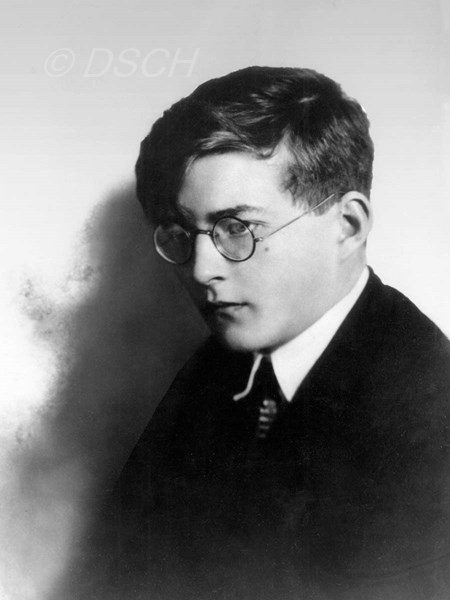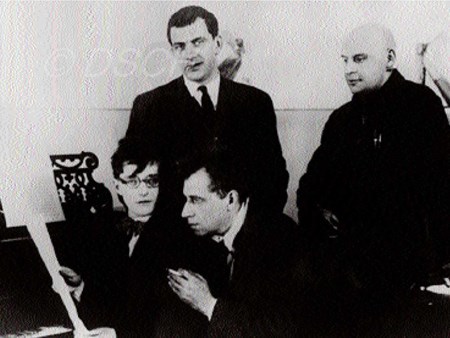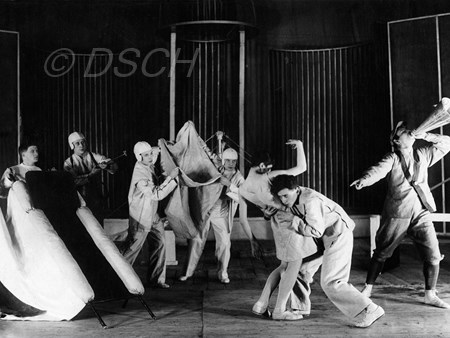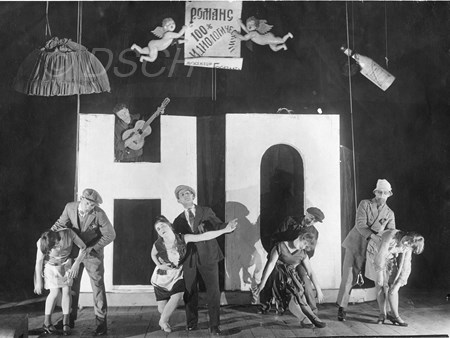 February 13th. Premiere of the Comedy "The Bed-bug" (Op. 19) at the Meyerhold Theatre.
March 18th. Premiere of the film "New Babylon" (Op. 18) the first film with symphonic music written specially for it.
"Not only does this young man not understand cinema... he is arrogant... I suggested helping him, wanted to orchestrate his music but he turned down my offer."
March 22, 1929
"Come to the 'Picadilly' today at eight o'clock. After the film there will be a discussion of my music. <...> If Vladimirov says that it is impossible for my music to be played by a trio or some other ensemble, say that it can be..."
July 1929
"As regards the aeroplane, I beg you not to say anything. Otherwise Mamma will hear and she will go mad with fright..."
"'An ugly, unhealthy grimace'. If a composer 'does not understand the false path he is going down, if he does not try to make sense of the reality then his work is bound to end up in an impasse'"
July 1929, Gudauta
"...on the 28th I shall be leaving. First I shall go to Batumi by steamer. After 1-2 days there, to Tiflis by train... From Tiflis by the Georgian Military Highway to Vladikavkaz . From there to Pyatigorsk and from Pyatigorsk by aeroplane to Moscow. Please don't say anything about the aeroplane. Otherwise Mamma will hear and she will go mad with fright. From Moscow I shall probably make my way back on foot to Leningrad, because I am worried that there won't be any money left. There ought to enough, but I am incapable of allocating my expenses..."
Leonid Trauberg:
"He was 22 years old, when Kozintsev and I were making our silent film 'New Babylon' and we decided to have music specially written for it.
I don't remember who recommended Shostakovich to us, but he came along. From the very first encounter, I am absolutely sure about this, we understood that for us it was a decisive meeting, inspite of the fact that in those days the role of a composer, especially in silent films, was minimal. He said that he would be interested to work in the cinema and that he knew our early films.
<...> In the cinema he worked with the same amazing dedication, that he showed when working on the opera 'Lady Macbeth' or Symphony No.8. He watched parts of our film many times. He demanded to be given every edited piece. He worked at a phenomenal speed. The music for 'New Babylon' he wrote in 10 days. Altogether the music takes 90 minutes and when the music was played, he was unlucky, since people were not used to music specially written for films. I remember how, during the premiere, the music was out of synch with the pictures on screen. The audience was laughing in places where it should have been crying. Then they were sad and bored when they should have been laughing.
Shostakovich and I went outside, unable to go on watching it all. We stood silently thinking that the whole adventure had been in vain. Then he said to me: 'I'm still going to write music for the cinema.'
He didn't live to see the day, when in November 1975 the film 'New Babylon' was shown at the International Film Festival in Paris. A special orchestra with the same range of instruments proposed at the time by Shostakovich under the baton of the conductor from the main opera theatre in France, 'La Grande Opera', played the music for the film. When the film was over the audience rose to its feet and honoured with their ovation first and foremost, in my opinion, the music by this composer of genius."
---