---
At the end of January 1927, Shostakovich entered the 1st International Chopin Competition in Warsaw and was awarded an honorary diploma.
After the competition, he gave a solo concert in Warsaw and then spent a few days in Berlin.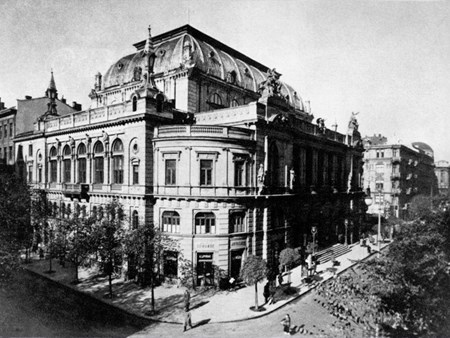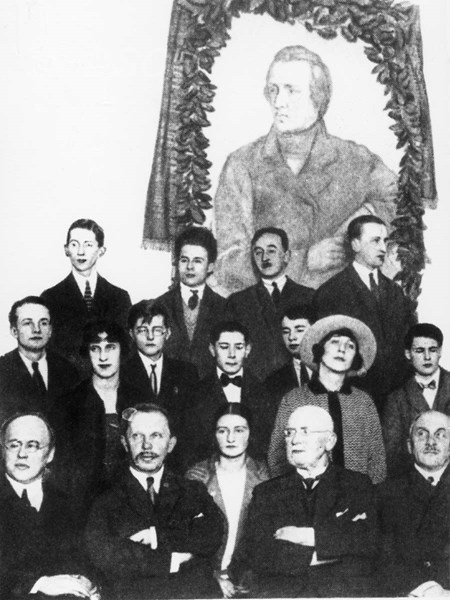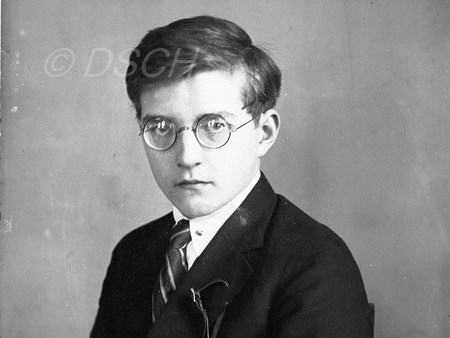 Participation in the First Chopin International Piano Competition in Warsaw (Certificate of Honour). Tour of Poland and Germany.
Premiere of "Aphorisms" (op. 13). Piano played by the author.
November 5th. Premiere of Symphony No.2 "Dedication to October" (op.14).
Premiere of Symphony No. 1 (op. 10) in Berlin.
January 24, 1927, Warsaw
"My dear Mamma... Warsaw is a stupendous city."
February 8, 1927, Berlin
"Berlin is a magical city. I could never have imagined anything like it. I am happy and content and there is nothing to upset me."
March 9-10, 1927
"Today Mamma accused me of being loutish and miserable... This is embarrassing for me too... In the end this is not so important viewed up against eternity. What is bad though is that I am very lonely..."

"In January 1927 I went to Warsaw for the Chopin Competition ... an assignment from the People's Commissariat for Education. Apart from Warsaw, I also visited Berlin. The trip was not a success, because the day I arrived in Warsaw I went down with appendicitis and I was wracked with pain the whole time till the operation, which I only had at the end of April in Leningrad."
January 24, 1927, Warsaw
"I shall write to you in detail about the Competition, when it's all over. I am really nervous, but trying to be philosophical. The Jury
consists exclusively of Poles. Seventeen Poles are taking part in the competition and 14 foreigners. Many people did not turn up, they got cold feet.
"Warsaw is a stupendous city. When my turn is over I shall devote a day to looking round the sights. Life here is cheap and of course we shall have enough money for Vienna and Berlin, where Oborin and I are planning to go.
<...> Four of us have two hotel rooms. I share one with Oborin and Bryushkov and Ginzburg are in the other. The rooms are very fine. Meals, tea , coffee and other comforts are included. There is only one snag. The cigarettes here are not nearly as good as in Russia. Everything else is all right. In the Embassy I feel as if I am back home.
The people there are very nice. For the concert they got me a dinner jacket with a soft shirt and collar at the Embassy's expense.
So far I feel confident. The success in Moscow was good for my morale. Yet of course, anything can happen and I recommend you not to get upset whatever mishap may occur."
January 27, 1927, Warsaw
"Only now, when everything is more or less over I am writing to you. <...> First of all I want to let you know, that we arrived safely. After changing quickly, we hurried off to the Chopin School and started to draw lots. <..> Throughout the whole of this procedure I had stomach pains. Then we visited the Embassy and returned home. In the morning I woke up with terrible pain in my stomach, but inspite of that I went to the opening of the Competition. During somebody's fiery speech my pain got so much worse, that I went home, undressed and lay down. The pain ... crescendo <...> A doctor came, examined my stomach, looked at my tongue, took my pulse and temperature and pronounced his verdict: "Appendicitis! ... There you have it!" He (the doctor) left, prescribing a powder at the same time. My stomach was still hurting badly. Half an hour later they brought the powder and three minutes after I had taken it, I was sick. <...> I was sick six or seven times. It didn't make things any easier. Things got worse all the time. <...> Then night fell. I didn't sleep too badly and in the morning I felt tolerable. The doctor came and told me to stay in bed all day.
After staying in bed till five, though, I got up. <...> Now to turn to my dear Comrades. I did not hear Oborin play, but to judge by what the Embassy people said, he played brilliantly. There was no stopping the applause. I heard Bryushkov play. He played just as he had in Moscow, except the B Minor Prelude he played this time without any affectation ... just as it should be played. Ginzburg played better than he had in Moscow. Both Bryushkov and Ginzburg were applauded at length. By the way, about the audience. They clap at the end of each piece but only call you out once. My performance was met with loud applause: especially after the C sharp Minor Etude...<...> I think that I made quite an impression with this Etude. After the C sharp Minor I got up and bowed twice. After the Ballade they also clapped loudly. Once they called me out and then settled down. Backstage everybody was congratulating me, but I made a quick exit. <...> The Competition ends tomorrow and tomorrow the Jury (all Poles ... not international) will choose out of all the competitors six or eight musicians. Then on Saturday and Sunday concertos with orchestra will be played. Then out of those eight (or six... I'm not sure which) three prize-winners will be chosen. I'm happy with my performance so far. As I played I forgot about everything else... as they say I played with inspiration. Tomorrow I'll find out if I am one of the 8. If not then on Sunday I shall be going back to the USSR. There will not be enough money for Berlin and Vienna, and my mood will be abysmal.
For God's sake do not tell anyone that I have appendicitis, because if the news reaches my Mamma she will be frantic with worry. I will present her with this unpleasant news, when I return home."
February 1, 1927, Warsaw
"My dearest Mamma, The Competition is over. The results: First Prize went to Oborin, 2nd to Szpinalski, 3rd to Etkina and the 4th to Ginsburg. I am outside it all. Not a bit upset, because it's all behind me now. I played my programme well and it was a great success. I was one of the 8 chosen to play a Concerto with orchestra. I played the Concerto outstandingly well and out all the 8 finalists came out best. My success here was even greater than it had been in Moscow. <...> Everybody was saying that there were two candidates for the First Prize ... Oborin and I. Besides people were talking and writing about the Soviet pianists, saying that they were coming out on top. If there were obvious candidates for the prizes then it should be the four of us... The Jury 'with bleeding hearts' decided to give the First Prize to a Russian. So it was awarded to Lev. The audience was amazed by the distribution of the remaining prizes. I was given a Certificate of Honour. <...> Don't be upset. Now there is an impresario sitting here talking to us about concerts. I shall be leaving for Berlin next week..."
February 8, 1927, Berlin
"My dearest Mamma, At a distance I can sense how your heart is aching for your unfortunate son. The main thing is that there is absolutely no reason for it... Berlin is a magical city. I could not have even imagined anything like this. <...> I should love to travel to Vienna. <...> From Warsaw I have taken with me: (1) a huge success with the audience and (2) a mountain of review notices.
The main thing I ask of you all is not to be upset. I am happy and content and have no sense of failure."
February 20, 1927
"I am not getting on too well, but not too badly either. As regards composing things look like this: when I returned here from Moscow, I wrote four pieces for a Sonata in one fell swoop. Then I started to ponder over some music for the Tenth Anniversary of the Revolution. I thought and I thought and then I was given some poems by Bezymensky, which upset me very much. They are extremely bad. I have started composing already. What will come of it, I don't really know myself, because I am unable to listen to what I have written <...>
My mother has lost her job without warning and now our budget is curtailed.
Mamma is desperate about it. I'm not upset in the slightest. We'll manage despite it. I am now earning 220 roubles. Let's hope it will be enough. We shall see later on."
March 6, 1927, Leningrad
"I'm very lonely. Mamma gives as the reason for it the 'loutishness' of my nature, which is reflected in my excessive openness in discussion among close friends: for example, recently one of my colleagues came to see me. We started talking about this and that. Then the word 'Asafiev' came up. I said that Asafiev is the tritest person I know. For some reason Mamma felt very offended on Asafiev's behalf. I was in for a thrashing. Moreover, I found out why. While I had been away, Mamma was shown some German journal with an article signed Igor Glebov (Igor Glebov was B. Asafiev's pseudonym: Ed) and where my name was mentioned in flattering terms. A mother's heart is such that it values every 'attention' paid to her son. <...>
Yesterday I listened to 'Kitezh' conducted by Kouts. In some places in Fevronia's part I almost shed tears. The act in which the city of Kitezh is wreathed in fog still makes me come out in goose-pimples down my spine. <...>
P.S. If there were a chance to give a piano recital in Moscow some time after April 6th, it would make me happy. The programme would be as follows:

Part I.

Beethoven. Sonata Opus 57 (Appassionata)
Shostakovich. Sonata
Prokofiev. Sonata No.3

Part 2.

Liszt. Dante Sonata.
Funerailles. Glockenreihen. Waldesrauschen. Canzona. Song of the Gondolier, Tarantella.

Please write to me and if there is any chance of arranging this piano recital, I shall start preparing for it seriously."
April 27, 1927
M. Shostakovich:
"...I am writing to you at Mitya's request. He is now in hospital, where three days ago he underwent an operation for appendicitis. He is unable to write to you for the time being. We were very worried about him. He had a terrible attack on Saturday night and the next day, Sunday, he was operated on in the evening. We were all very surprised at how after an attack like that in Warsaw he had been able to play.
So far all is progressing normally. We hope it will all be all right. He is in a separate ward and Mamma is by his bedside all the time..."
May 6, 1927, Leningrad
"I have completed my Suite and called it (with deference to your words) 'Aphorisms'. I have composed twelve of them all together. Two I threw out on the rubbish heap and now there are ten. (1) Recitative; (2) Serenade; (3) Nocturne; (4) Elegy; (5) Funeral March; (6) Etude; (7) The Dance of Death; (8) Canon; (9) Legend; (10) Lullaby. On the 19th, if I'm well enough, I shall play the 'Aphorisms' at a concert for the Association of Contemporary Music. When Fate lets us meet, I shall play them for you. At the moment I am feeling really bad and I dream about dying before August 1st (i.e. the date when I have to submit my patriotic piece). Don't even ask me how that is progressing.
As long as I was healthy I used to play the piano every day. I wanted to do this till the autumn and then decide, if I can't play any better, whether I should drop it all. To be a pianist worse than Szpinalski, Etkina, Ginzburg and Bryushkov (the general views is that I am not as good as they are) is not worth it. Moreover, a knot of hate is taking firm root in my heart. I felt this extremely strongly when I started to come round from the anaesthetic. This hate almost made me explode. The anaesthetic had weakened my will-power and I could not hold down this strong surge of emotion. I shouted at the whole hospital, I hit the nurses, I used the foulest language until I fell asleep after the jab of morphine they gave me. I was feeling sorry for my Mamma (Mammochka ... I'm going to die. How will you cope without me, my poor Mammochka!), I remembered Valerian Mikhailovich and asked him to bring a militia-man, so that he would shoot me out of compassion. The militia-man was not summoned. I didn't die and now I am enjoying life again. Deadly boring."
May 12, 1927, Leningrad
"A wild idea came to me yesterday evening. The thing is that on August 1st I am going to be paid 500 roubles for my patriotic piece. In addition I was reading a good deal of Maupassant yesterday. I have decided that with these 500 roubles I am going to go to Paris. I have decided to do this whatever happens.
On May 19th I shall be playing my 'Aphorisms' at a concert for the Association. Every day I go out as far as the corner and buy newspapers. Every day I write 4 pages of the score for my patriotic music and feel the itch: 'To Paris, to Paris!"
June 6, 1927, Leningrad
"...When I talked to you about my composition for the 10th anniversary of the October Revolution, you gave
me a good suggestion, saying it would be nice to introduce whistles. I found your idea most appealing. Now I have got as far as the place where I should like to introduce the whistle. I went specially to a factory and listened carefully to the tessitura of the whistles. The tone is rather low.
<...> If they can't be produced, then instruments of the orchestra will have to be substituted for them.
Now I have come to the most difficult part. The choir comes in. If you remember Bezymensky's verses, they lack any melodious quality."
June 12, 1927, Leningrad
"...I think I shall be finished very soon. I would have finished even sooner, if it had not been for the verses of Bezymensky and the Musical Department, which were meant to be inspiring me. This composition has a chorus in it. I use this opportunity to give you a sample of the words:
'We walked, we begged for work and bread.
Our hearts were gripped in a vice of gloom.
Factory chimneys soared to the skies
Like hands that could not clench their fists...
October! ... herald of the longed-for Sun.
October! ... the will of insurgent centuries.
October! ... work, happiness and song.
October! - joy of the fields and flowers.
This is the banner in the name of today's generation:
October
The Commune
and Lenin."

Voila. Now I have got to the words (not included) "O, Lenin!" I had great difficulties composing this chorus. Words!!! Yet before the chorus I managed to compose a good stretch, the unofficial title of which is 'Death of a baby' <...>
I am not feeling very well. I have got very tired after stressful work and I feel that I shall not get the chance to recover very soon. What weighs down on me is the thought of the opera. As soon as I finish the symphonic poem I'll start work on the opera. The subject I'm taking from Gogol's novella 'The Nose'. I shall write the libretto myself. When in difficulties I shall consult Radlov. I have already almost finished the Overture. I am very keen to go to Paris, but I'm afraid nothing will come of it."
July 2, 1927
"I beg you not to be angry with me and not to think that I am in the habit of not paying back my debts. Please forgive me for not having sent you the money yet. The problem is that my sister has lost her job, which means that my salary is our only income. I shall send you the money when the Musical Department pays me my royalties. I beg you, please, don't be angry."

"Finally, in 1927 I met him while visiting a Leningrad musician. <...>
I was very struck to observe that Sollertinsky turned out to be an unusually jovial and unaffected person, a brilliant wit and very much down-to-earth,. Once more I came to realize, that a truly great man is always unaffected, always modest and always has his feet firmly on the ground. Our hospitable host kept on his guests for al long time and in the end Sollertinsky and I went home on foot. We lived close to each other in Leningrad and had to go in the same direction. The long distance seemed very short. because the walk with Sollertinsky was so relaxed: he was talking so interestingly about so many aspects of life and art."
September 30, 1927, Leningrad
"...something else has happened but this should stay between us. Some girl or other with a very imposing surname wants to marry me, but taking into account all kinds of difficulties, which would follow on from such a step (finding a room, buying a primus-stove and other things) suggested that I should become her unofficial husband. As one says: if you chase the dog out of the room it will come back in through the window. I am thinking about how to shake her off and I don't know what to think up. Perhaps you could advise me? Well? If your advice is to the point I shall take it into account and follow it. Horrors! What a wretched fellow I am. Not only did I fail to get the Prize, but now I have to find the wherewithal to buy a primus-stove.
Not only have we decided not to buy a primus-stove, but I shall have to become her 'unofficial' husband. On top of all that I've even written an article. Horrors!"
October 20, 1927, Leningrad
"You have probably been to many interesting places and have seen much that is of interest and worthwhile and have enjoyed many good times. I am glad for you and I envy you. My dream is to travel a lot and to interesting places. Yet my wings are clipped.
<...> Now I have resumed work on "The Nose". I did not do any composing while in Detskoye Selo. Now I have almost finished Act I. I haven't finished its instrumentation though. On October 6th my 'October' piece will be performed in the Philharmonia."
Late 1927
"The fee for my concert I shall have to give to my family. Unfortunately, half of it I have already received and spent. All that remains is the second half and it would be nice to get an advance on the strength of my future salary to live on in Moscow. That's the first thing.
The second question is how much my salary will be? You had promised to do everything in your power to ensure that my salary would be a sizeable one. I am not prepared to sell my liberty cheaply! Please don't be offended by the way I put this. I shall find it very interesting to work in your theatre and, to judge by what you have said, there will be a good deal of work and it will be uninterrupted for two months..."
---