---
On 11 February 1944, Ivan Ivanovich Sollertinsky died in Novosibirsk. On 13 August 1944, Shostakovich finished Trio No. 2 dedicated to the memory of I.I. Sollertinsky in Ivanovo. On 20 September, work was finished on the Second Quartet in Ivanovo. The two new compositions were performed for the first time by the Beethoven  Quartet and the author in the Grand Hall of the Philharmonic in Leningrad on 14 November and in the Grand Hall of the Conservatory in Moscow on 28 November.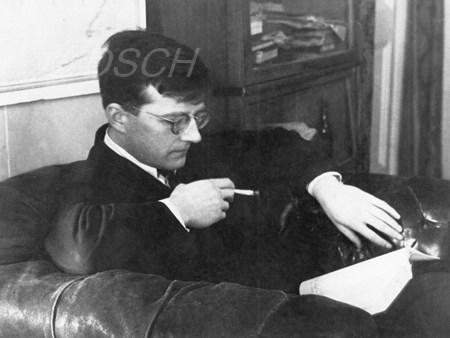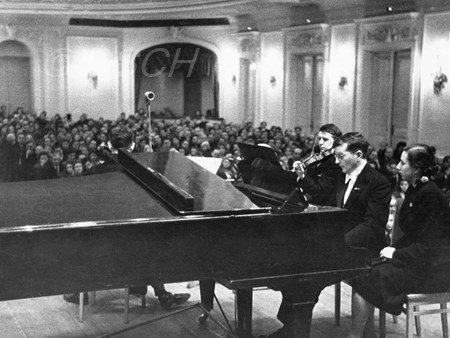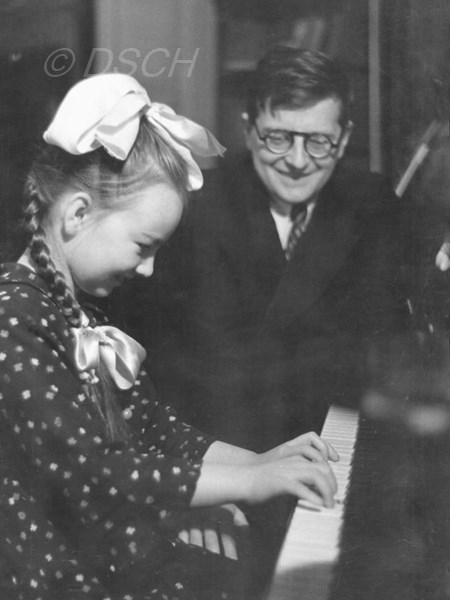 Death of Ivan Sollertinsky, leading musicologist and Shostakovich's closest friend. Composition of a Trio dedicated to him (op. 67), which was premiered on November 14th.
Premiere of String Quartet No.2 (ор.68).
Music for the film "Zoya" (ор.64).
Premieres of Symphony No. 8 in New York, Boston, Mexico City and London (ор.65).
February 13, 1944, Moscow
"Ivan died on February 11, 1944. We shall never see him again. There are no words that can express my grief which is eating away at my whole being. May our love for him and our faith in his great talent and phenomenal love for the art, to which he devoted his magnificent life - music - serve to immortalize his memory. Ivan is no more. It is very difficult to come to terms with this. My friend, don't forget me and write to me. I have a request: wherever you can, get hold of some vodka and on March 11th at 7 p.m. Moscow time let's drink (you in Tashkent and I in Moscow) a glass and by doing so mark the month that will have passed since Sollertinsky's death."
"Ivan was young, at the height of his powers. He died at the age of 41. <...>
In 1927 I met him at the house of a Leningrad musician. <...> During our conversation it emerged that I didn't know a single foreign language and Sollertinsky couldn't play the piano. That's how it came about that the very next day Sollertinsky gave me my first German lesson and I gave him his first piano lesson. These lessons, incidentally, very soon came to an end. The end was pathetic: I didn't learn any German and Sollertinsky was unable to play the piano, but since then and up to the last moment of Sollertinsky's marvellous life we were great friends."
March 25, 1944, Moscow
"I still can't recover from my grief...Ivan Sollertinsky was a real champion of our art...It is so offensively sad that there has not been a single response to this tragic loss in our newspapers. <...>
I am terribly busy and not composing anything. There have been periods like this before, but it always seems as if this time it is so serious that I shall never be able to compose another note again. I wish this bad patch would soon be over because it's very unpleasant."
April 14, 1944
"To the Main Editorial Office of the Short Soviet Encyclopaedia.
I am writing to inform you of my ideas regarding the glossary for your music section. I am drawing your attention to the unforgivable omission of the great composer of symphonies Anton Bruckner.
Below I list other names which should also be included in your encyclopaedia:
Arakishvili, Alban Berg, A. Balanchivadze, M. Balanchivadze, M.F. Gnesin, A.S. Melik-Pashaev, L.V. Nikolaev, G.N. Popov, S.A. Samosud, I.I. Sollertisnky, Svendsen, A. Stepanyan, P.S. Stolyarskii, B.E. Khaikin, P. Hindemith, A. Schoenberg, M.O. Steinberg, B.L. Yavorsky, Janacek, Tuskiya and R. Strauss. I doubt if there is any need to include the names of Gilels, Lemeshev, Obukhova, Khanaev, Stepanova, Flier, or L. Shteinberg in the SSE. Emil Gilels is no doubt one of the outstanding Soviet pianists, yet he is still very young and one cannot be certain he will be able in the future to play and work as well as he does now. Lemeshev, Obukhova, Khanaev and Stepanova are good singers but no way can they be regarded as above average. In recent years Flier has started to play very badly and is definitely not entitled to be numbered among performers who are the pride of our nation, while Lev Shteinberg - throughout the whole of my experience of conductors - has never managed to conduct anything even semi-decently."
May 3, 1944, Moscow
"I am deeply grateful for the care and attention you have shown my mother. It would be wonderful if you could take her back to Leningrad. Let her go back to our home city first. Before I make my own way back to Leningrad, I would beg you to remember her from time and time and, when possible, give her a helping hand. I am very glad that you are going back to Leningrad."
September 1944
"...I am concerned about the lightning speed with which I am composing. It's no good, I feel sure. One should not compose with this kind of speed. <...> I am composing with infernal speed and cannot stop...It is tiring, not very pleasant and when it's over I have no confidence that the time has been spent usefully. I can't shake off this bad habit though and I am composing much too fast as before."
January 5, 1944, Moscow
"Chamber music demands from a composer supreme command of technique and profound thought. It would be misleading if I didn't tell you that very often behind the glamour of orchestral sound the composer conceals his paucity of thought. The rich timbre at the disposal of the modern symphony orchestra is out of reach for small chamber ensembles. I repeat, while it is still possible to listen to thin thoughts concealed behind rich and colourful orchestration, such thoughts would be simply unbearable in a chamber work. From this it would be wrong to conclude that I like chamber music better than symphonies. No, I really enjoy both good symphonies and good chamber music. What I cannot stand is bad music, regardless of whether it has been written for a symphony or a quartet...
At the moment I am writing a Trio for piano, violin and cello."
---